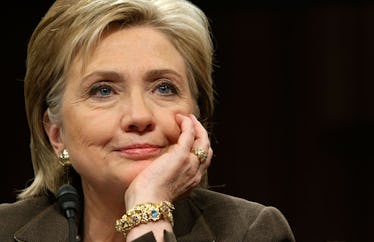 The DOJ Is Reportedly Looking Into Hillary Clinton's Emails Again, & This Will Never Die
Alex Wong/Getty Images News/Getty Images
Another day, another ridiculous turn of events, thanks to the Trump administration. This time: according to an exclusive report from The Daily Beast, the Department of Justice (DOJ) has reportedly re-opened the Hillary Clinton email investigation. Again. In 2018. Five years after her stint as Secretary of State ended and more than a year after the investigation was closed. Please, lord, on the fourth day of 2018, give me strength.
According to The Daily Beast, this new investigation is reportedly "an effort to gather new details on how Clinton and her aides handled classified material. Officials' questions include how much classified information was sent over Clinton's server; who put that information into an unclassified environment, and how; and which investigators knew about these matters and when." The investigation will also reportedly look at whether or not any Clinton aides took immunity agreements, which could signal wrongdoing. Elite Daily reached out to the DOJ for comment but did not hear back by time of publication.
While Clinton was Secretary of State, from 2009 to 2013, she regularly used a private server, complete with a personal email address at a domain called Clintonemail.com. Her use of a private server raised questions about whether classified material had been left vulnerable to hackers, whether or not she had broken any laws, and, down the line, whether or not she had attempted to hide or erase ("acid wash") any damning emails — which is a chief argument of many anti-Clinton pundits, and the detail anti-Clinton advocates are most interested in.
Clinton has since been cleared of wrongdoing — most recently in July 2016, when the FBI determined that Clinton and her aides were, "extremely careless in their handling of very sensitive, highly classified information," but should not face criminal charges.
But this is the investigation that just won't die: in Oct. 2016, just weeks before the election, then-FBI Director James Comey alerted members of Congress that they had discovered more than 650,000 messages on top Clinton aide Huma Abedin's personal computer that could be relevant to the investigation. (Comey's announcement was, itself, controversial, with some saying that it was what cost Clinton the presidential election.) And The DOJ has recently alluded to interest in re-opening the investigation: in a November letter from the DOJ's Office of Legislative Affairs to the House Judiciary Committee, Stephen Boyd signaled that AG Sessions had directed prosecutors to look into "certain issues" regarding the Clinton email investigation.
So this isn't necessarily unsurprising, though it is disturbing — largely due to the role President Donald Trump may have played in the DOJ's decision to re-open the investigation.
Trump has, with relative frequency, publicly asked why authorities aren't looking into Clinton's emails, and his demands generally coincide with when bad news is released about the investigation into whether or not the Trump campaign colluded with Russia. For instance, Trump tweeted on Dec. 2, just one day after his former National Security Adviser Michael Flynn was arrested, "Many people in our Country are asking what the 'Justice' Department is going to do about the fact that totally Crooked Hillary, AFTER receiving a subpoena from the United States Congress, deleted and 'acid washed' 33,000 Emails? No justice!"
Additionally, only days ago, on Jan. 2, he tweeted that Clinton aide Huma Abedin should be jailed in response to the Oct. 2016 discovery that she had emails possibly relevant to the investigation on her private laptop. And you know what else happened this week? Not only did quotes from an explosive interview with former White House Chief Strategist Steve Bannon surface (in which Bannon called Trump's son "treasonous"), but news also broke that the Trump Organizaton has handed over documents related to the Russia investigation.
And, of course, there was also Trump's campaign promise, during one of the more contentious debates, to assign a special prosecutor to the Clinton investigation.
Oh, and, duh, all the "lock her up" chants (quite a few led by Flynn, who has pleaded guilty to lying to the FBI).
Determining whether or not this investigation is in good faith, given Trump's public demands to investigate his political enemy, is tricky, to say the least — especially as a man willing to use supposedly apolitical federal institutions to threaten enemies hint at an alarming uptick in Trump's flirtations with authoritarianism. On the other hand, Trump could also just be very, very concerned about a private citizen's six-year-old mistake. Hey, it's possible.
Disclosure: Hillary Clinton's son-in-law Marc Mezvinsky joined Social Capital, an investor in Bustle Digital Group, in mid 2017 and joined the Board of Bustle Digital Group in early 2018.