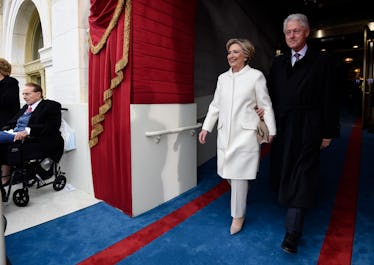 Hillary Clinton Retweeted Bill For Father's Day & Their Message Is So On Point
Pool/Getty Images News/Getty Images
Those of us who can are spending Sunday, June 17, celebrating Father's Day with our dads. But this year, after a new mandate from the Trump administration saying that all undocumented migrant children crossing into the United States will be separated from their families, there are some children who can't celebrate with their fathers. Given that, Hillary and Bill Clinton's Father's Day message is so on point — and seriously, I'm cheering.
In a May 7 announcement to law enforcement in Arizona and California, Attorney General Jeff Sessions said that the Trump administration's "zero tolerance" policy against undocumented immigration will include separating children from their parents at the southwest border, according to NPR.
On Father's Day, while celebs left and right were taking to social media to post tributes to the dads in their lives, President Bill Clinton tweeted about the families that are being torn apart under Trump's policy. He wrote,
On this Father's Day I'm thinking of the thousands of children separated from their parents at the border. These children should not be a negotiating tool. And reuniting them with their families would reaffirm America's belief in & support for all parents who love their children.
His wife and former presidential candidate, Hillary Clinton, was right there to jump in and second it. She retweeted her husband's post with the comment, "YES!"
It's really refreshing to see a politician tweet something that shows they're thinking of others on this family holiday, and that their hearts go out to the children who are being taken from their parents. It's even more amazing given what the first daughter posted on Father's Day.
Ivanka Trump decided to pay tribute to her father, President Donald Trump, and the father to her children, Jared Kushner, in one fell swoop. Ivanka posted a photo to her Instagram of her dad and hubby low-fiving and captioned it, "Happy #FathersDay to these two amazing dads."
It's fine for the first daughter to post a sweet little message to her father and husband, but when you're part of an administration who is responsible for families being separated, maybe you should hold off on those social media tributes.
Sessions stated in his May 7 announcement that all children being "smuggled" in will be taken from their parents. His exact words were,
If you cross this border unlawfully, then we will prosecute you. It's that simple. If you smuggle illegal aliens across our border, then we will prosecute you. If you are smuggling a child, then we will prosecute you and that child will be separated from you as required by law. If you don't like that, then don't smuggle children over our border.
Now that the policy has been enforced, obviously people weren't feeling Ivanka's Father's Day post. One commenter wrote, "...How do you sleep at night? So complicit in allowing children to be ripped from their parents?" While another questioned how "amazing" her father could actually be, writing, "Amazing fathers would not ever want their children to be separated by their families."
But really we should be giving Ivanka a break, as apparently no one ever taught her how to post appropriate things at appropriate times. I wasn't surprised at all by Ivanka's seemingly insensitive post given that she's done worse.
If you think it's bad to talk about "amazing dads" while families are being torn apart, then imagine someone tweeting a picture of themselves holding their son and captioning it "My #SundayMorning" while other families are being torn apart — which is exactly what Ivanka did in a May 27 tweet. Obviously folks were not happy about that either.
No matter which side of the political line you fall on, it's important to keep in mind that children are being separated from their parents. It's especially important for political leaders and those who surround them to remember. So when it comes to Father's Day posts, I think the Clintons took this round.