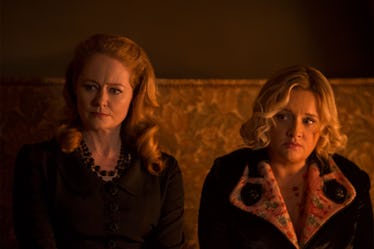 Hilda & Zelda Reveal There's "One Serious Twist" In 'Sabrina' Season 2 – EXCLUSIVE
Netflix
Gone are the days of Sabrina Spellman using her pointer finger to cast spells. Netflix's installment of Chilling Adventures of Sabrina is a far cry from Melissa Joan Hart's teenage witch. This time in Greendale, Salem isn't the source of witty banter, Sabrina's biggest problems aren't cheerleaders, and Britney Spears isn't making a cameo any time soon. Amid all of these changes, however, fans of the '90s show found familiar comfort in Hilda and Zelda's relationship. Sabrina's aunts in the new series, played by Lucy Davis and Miranda Otto, have that same sitcom-style ying and yang relationship, albeit much darker on Netflix. Chilling Adventures Of Sabrina is already filming its second season, and Hilda and Zelda confirm to Elite Daily a "serious twist" is on the horizon.
There isn't a set premiere date for Chilling Adventures Of Sabrina Season 2 yet, but Otto promises the next chapter won't disappoint. "There's one serious shift," she says. "[It] sort of leans into one side of the story that wasn't as heavy leaned into before. That's probably about the best way I could put it, which is a lot of fun."
Davis chimes in saying, "There's a lot of things for the audience that I think they'll enjoy [in Season 2]."
Hilda and Zelda's dynamic serves as comedic relief in Chilling Adventures of Sabrina Season 1; the character's juxtaposing personalities source most of the show's laughs. Among the dark and satanic themes, Hilda and Zelda feed off each other in a snarky yet sisterly way.
As Davis puts it, "Zelda's funny because of Hilda's reaction, and Hilda because of Zelda's reactions. Sometimes when we're just left on our own, we're just Hilda and Zelda, but together I think it's why it makes it, hopefully, interesting."
Season 1's big mystery was centered on Sabrina's parents. The true story of her birth and the consequences her mother and father faced came across as muddled, keeping fans guessing and theorizing throughout the first 10 episodes.
Davis and Otto are, unfortunately, as in the dark about Sabrina's origin story as the rest of us. Although Hilda and Zelda tell Sabrina all about her parents' complicated love affair, Otto says, "We're not sure if Zelda and Hilda are telling a story or whether they know it and believe it yet." There is no shortage of secrets in the Spellman lineage.
"When we find out, we'll let you know," Davis tells me. "So far, we've found out about more [Sabrina's] mom but then... we really have no idea. And I think that's the thing I love about this show, like if someone dies in it, it's, well, to be fair, in this show, you can some back at any moment. You could come back through the cave pit, and through the mud and you're up again."
It's clear nothing is as it seems in this world.
Chilling Adventures Of Sabrina Season 2 is officially in the works, and fans have a lot to look forward to from this series.