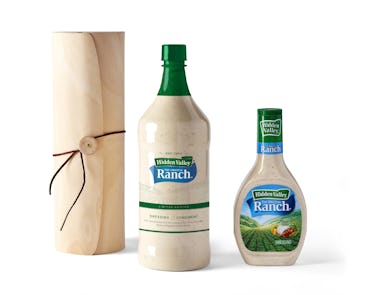 Hidden Valley Is Releasing A HUGE Bottle Of Ranch For The Perfect Holiday Gift
HIDDEN VALLEY
After making our holidays merry and bright with last November's debut of kegs brimming with ranch, Hidden Valley is back a year later with a whole new lineup of festive ranch-themed merch to help the HVR devotees in your life bless up come Christmas. The scientists behind everyone's favorite dressing have really upped the ante this year with the release of Hidden Valley's Magnum Ranch Bottle, which comes in a fancy package fit for the highbrow foodie who can't get enough of the addictive creamy sauce and has no shame about it. Whether you opt to use this 1.75-liter baby to dress your buffalo wings, some veggies, or go the controversial route by pairing it with your pizza pie, the season is about to get a whole lot tastier.
IMHO, ranch is the king of dressing with a serious cult following, which was definitely proven last November when Hidden Valley Ranch released all the ranch-centric products like ugly sweaters, socks, holiday ornaments, a holiday keg, and yes, a fountain featuring a Christmas skirt, all dedicated to the love of ranch. The products flew off the shelves, and the company decided to give the people what they wanted this year by rolling out a ranch-inspired holiday store that's, dare I say it, even more outrageous (and popular) than 2017's selection.
Just days after its release, the Hidden Valley Ranch tree topper, which was retailing for $50, has already sold out, as have the HVR wrapping paper ($25) and the giant inflatable Hidden Valley Ranch inflatable toy that you could use to dress your lawn for a cool $150. People aren't playing around when it comes to their love of ranch, y'all. While a bunch of items might not be available anymore, I've been keeping my eye on the prize of the crew: A $25 Magnum bottle of good, old fashioned ranch, which will be available starting on Dec. 3.
I have to admit, I'm pretty floored by how fancy the packaging is. The light wood is tied with a red string and could easily house a bottle of fine whiskey or bourbon, save for the "Hidden Valley Ranch" that's stamped on the box in elegant, slightly faded letters. In other words, it's perfect for your bae or BFF who enjoys the finer things in life but also considers himself or herself a ranch connoisseur.
The product description reads, "Let the ranch flavor flow with this limited-edition bottle that comes in a custom-designed box perfect for any holiday occasion." Compared to a regular 8-ounce bottle of HVR, which retails for about $2.29 at Target, this $25 magnum bottle contains 1.75 liters of liquid tanginess (or about 59 ounces). It's only slightly more expensive than purchasing separate bottles of ranch, plus you get the limited-edition packaging that you can keep long after your mega-bottle has been emptied of its last drop. And, let's be real, it's so much classier than last year's keg o' ranch.
Again, the magnum bottle of ranch goes on sale on Dec. 3, and like the rest of Hidden Valley's holiday stock, it's only around while supplies last. Considering that ranch enthusiasts have already bought out the entire stock of a few of the dressing-centric items on offer, I'd act quickly if you need one of these bottles in your life. In the meantime, I'd recommend checking out the festive AF HVR bottle and shaker ornament set or maybe even splurging on a snow globe featuring a "ranch blizzard" for the office, because why the ranch not.