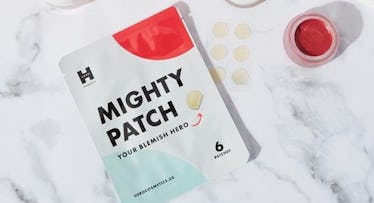 Hero Cosmetics Is Giving Away Free, Full-sized Acne Dots, So Hello Clear AF Summer Skin
Hero Cosmetics
Anytime I can get my hands on a promising new acne treatment that claims it can help me get my stubborn breakouts under control I jump at the chance. Blemishes suck and I'll try just about anything to get rid of them. Hero Cosmetics is giving away free acne patches for the entire month of June, and in doing so, truly living up to their name: they are dermal heroes, in my book! After doing some research the patches sound super legit. Plus, I mean, they're free...so why not give them a shot?
June is officially Acne Awareness Month so this little giveaway couldn't have come at a more appropriate time. All you have to do to score a pack of your own patches is go to Hero Cosmetics's site, add the patches — which typically retail for $2.50 for 6 patches or $13 for 36 — to your cart, and pay $1 for shipping. Hero is a New York City-based K-beauty brand and has tons of other amazing products to choose from so make sure you scope out their website. You can only snag one sample for yourself and the deal will only go on as long as supplies last, so I'd recommend securing your pack ASAP.
When it comes to treating singular pimples, these patches seem like a bit of a godsend. "Pimples and blemishes always show up at the worst time - before a date or an interview or just about any time you need to show your face in public," reads Hero Cosmetics's website. "That's why we created MIGHTY PATCH™, a new way to battle those pesky blemishes without harsh chemicals or drying formulas that can show results overnight."
Too good to be true, you ask? Made from a hydrocolloid gel layer that's made of pectin, the patches are cruelty-free and vegan and, when stuck onto a pimple, will help drain it of its fluids overnight. As Popsugar writes, "If you need proof, you can take a peek at your patch in the morning when you remove it. The sticker will contain pus that just drained from your whiteheads!"
Brand co-founder Ju Rhyu spoke with Popsugar about the patches and their formula, saying, "As it absorbs and attracts the fluid, you'll see the patch turn from transparent to opaque white. The white stuff is the fluid and pus that the hydrocolloid has absorbed from your pores." Creepy? Yes. Satisfying? Incredibly. Seeing as the patches are meant to drain pimples, cystic acne sufferers might not see many results with them. But if you've got whiteheads or other such blemishes, you've just struck treatment gold.
While the best time to wear these is at night they can also be worn during the day with or without makeup. When I was working at a magazine I remember one of our beauty editors wearing acne patches around the office and totally owning it. If you do want to try and conceal the patch with makeup, start by washing and drying your face before applying the patch. "Simply applying the patch itself can help conceal the bump and size of a pimple," Rhyu told Popsugar. Opt for a thick concealer once you go to add makeup: "that will hold better on the patch."
From there, use a blender to blend in the concealer and if a bit of the patch is still showing through, go over it with a bit of translucent powder. "This counteracts the slight sheen of the patch," Rhyu said.
There you have it! A spot treatment that's guaranteed to give you visible results and won't smear off on your pillow in the middle of the night or force you to sleep with a giant white blotch on your face. Why wouldn't you give it a shot?