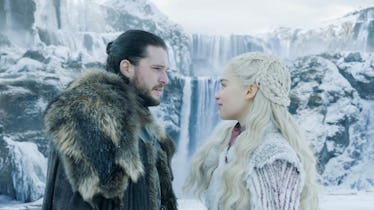 The 'Game of Thrones' Couple You Love To Stan, Based On Your Zodiac Sign
There are so many reasons to love Game of Thrones: the mythology, the plot twists, the dragons, and, of course, the love stories. Now, don't get me wrong, I love an epic battle scene. The "Battle of the Bastards" episode is one of my top five favorite TV episodes of all time. But as much as I love the excitement and the intrigue, I can't help but ship a few of the couples as well. My favorite Game Of Thrones couple may not be the most exciting, but it's definitely the sweetest. Sam and Gilly. Come on — they're just so cute! If they don't get their happy ending, I'm rioting!
That said, they are far from being the only couple on the series worth rooting for. In fact, it's probably pretty easy to predict which duo has your heart based on your zodiac sign, because when you think about it, each GoT couple has different attitudes toward romance, and they can be matched pretty easily with the attitudes most commonly associated with each zodiac sign. For example, that could be a focus on security, epic romance, passion, or just simply shared goals. There really is a little something for everyone in this series. So, here are the Game of Thrones couples you likely love the most, based on your astrological sign.