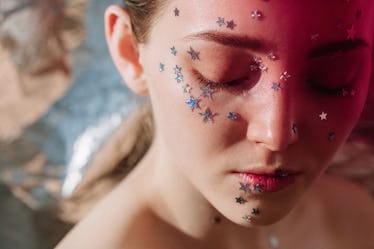 Here's The Breakup Album You Need To Hear Right Now, Based On Your Zodiac Sign
Breakups can really suck, and sometimes, healing from one seems to take forever. Even if you feel like the pain of your breakup is insurmountable right now, you're going to get through it eventually. People say that time heals all wounds, but when you're smack dab in the middle of heartbreak, that old cliché might not be the most soothing thing in the world. Listening to some music that helps you connect with your feelings can be a great way to pass the time. So why not pick out the best breakup album, based on your zodiac sign?
These albums can help you feel your feelings while you commute to work or, you know, lay on the floor and stare at the ceiling. Sometimes you've just got to channel your inner Lilo from Lilo and Stitch and lay on the floor while your favorite record plays on repeat. Whether or not you have a record player is beside the point because, when it comes to breakup music, it's all about your album choice. The following albums are perfect for certain signs for a few reasons.
They can either meet you where you're at emotionally, allow you to feel seen in your anger or hurt, or guide you towards feeling just a little bit better. And, hey, these albums are all pretty great, so if you finish one feel free to pick out another from the lineup.