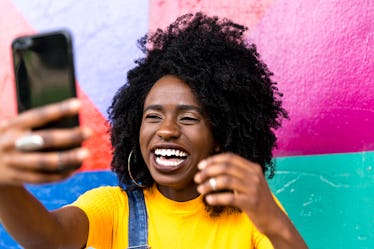 Here's Why Mineral Foundation Is The Secret To That Filtered Look
Flilipe Frazao/Shutterstock
No shade to selfie special effects, but who needs an app when you can get a filter look on your skin IRL? There's the usual drill of skin-care steps to get that glow: Vigilant masking? Check. Jade rolling? Check. Precise concealer application? Check. But in the quest for that blurred effect, how often do we stop to consider what, exactly, is going on our skin? To be honest, it can be more than just a little scary when we actually consider what we're feeding our complexions while trying to even out and illuminate. That's why we've partnered with bareMinerals, a brand that has been championing clean, effective beauty products for 23 years, to explain why mineral foundation is key to a filter-IRL look that doesn't compromise your skin.
In fact, one of my first high school beauty memories is tied to bareMinerals — the creators of clean — and its mineral foundation. When I was 15, I desperately wanted to disguise signs of my teenage acne. On a friend's rec, I visited their boutique in my hometown to pick out a pot of the ORIGINAL Loose Powder Foundation SPF 15. I remember swirling, tapping, and buffing away traces of my breakouts. The powder formula morphed into a cream as I blended. Plus, the fun application process was a welcome upgrade from the foundation slathering I had become used to. And even though my acne has since disappeared, that same mineral foundation is still around, ready to even out my complexion at a moment's (or selfie's) notice.
So get ready to ditch the bunny ears or heart eyes, because we're giving you the scoop on why mineral foundation should be your new go-to for filtered skin, IRL.
How many times have you picked up a beauty product only to read a laundry list of ingredients you can't even pronounce? That's not the case with bareMinerals ORIGINAL Loose Powder Foundation SPF 15, which is non-toxic and cruelty-free. Instead of being filled with potentially harmful ingredients (think talc, parabens, phthalates, fragrance, and chemical sunscreen), all 30 shades are crafted from just five good-for-your-skin minerals. In fact, it actually promotes cleaner, healthier-looking skin over time. And if you're questioning its effectiveness even the tiniest bit, we can assure you: This product has received tons of awards during its two-plus decades on the market, proving it really does give you clean without compromise.
Especially when compared to liquids, loose powder mineral foundation remains totally lightweight (no caking in sight!), even when you're trying to cover up a blemish. For application, it's as easy as: swirl, tap, buff. The rule of thumb is to start with just one "tapping motion" of powder before adding more. Gently take the open container and tap it against the lid once, holding it diagonally so the powder can fall from the tiny openings into the cap. Then, swirl your brush in the powder, tap to remove any excess, and apply. Because of the powder's ability to truly blend into skin, a custom brush works best for medium to heavy coverage — you're able to get a smooth, airbrushed look in minutes.
For all those days you wake up with blah skin that needs a little pep in its step, minerals are particularly glow-ifying thanks to their ability to catch the light. For an added boost, tap on a light-catching highlighter. Or, apply your foundation as you normally would, use a spray bottle to lightly mist your cheeks with a little water (the key word being little), then use your fingertips to gently pat the water into your skin. The result? A dewy complexion that lasts all day — especially when you dust on a setting powder like bareMinerals Mineral Veil Finishing Powder to lock the look in place (this brush is a perfect match).
That's right. This hypoallergenic, non-comedogenic, non-acnegenic formula is so pure, you can sleep in it without worrying about it clogging pores or causing breakouts. Now how many other foundations can claim that?
This post is sponsored by bareMinerals.
Design: Hannah Chua/BDG