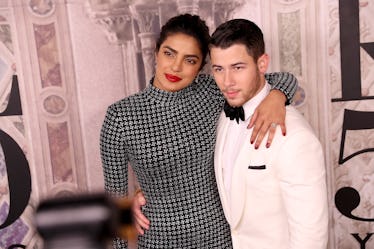 Here's Why Priyanka Chopra Made Her Relationship With Nick Jonas Public, Breaking Her Rule
Rob Kim/Getty Images Entertainment/Getty Images
Priyanka Chopra and Nick Jonas are reportedly getting married any minute now — or, you know, sometime over the Dec. 2 weekend — and I seriously cannot wait for these two to finally make it official. Their love story is basically magical, and I am obsessed with following every second of it. The two "met" online after Jonas spotted Chopra on Quantico, then slid into her Twitter DMs because that's how celebrities do. After two months of dating, Jonas popped the question in July 2018. Up until that point, the actress had never been photographed with a boyfriend. So if you're now wondering why Priyanka Chopra made her relationship with Nick Jonas public well, then, join the club.
Chopra recently sat down with Vogue for the publication's January issue. During the interview, she happily shared the deets of her bond with the second-to-youngest Jonas brother — you forgot about Frankie "Bonus" Jonas, didn't you? — and got real about why she allowed herself to be so high key about their romance, after refusing to go public with any other guy.
"I've had that rule my whole life," she explained. "Never publicly acknowledge a relationship. Ever. I've not known myself like this. This guy turned me into such a girl! If I could blush, I'd be tomato red right now."
Awww. Why is everything about these two so freaking cute?
The actress told People back in October that part of the reason she was able to be so open about her romance with Jonas was because the two of them had so much mutual respect for each other.
"This is the first time I was comfortable with being with someone who is such an incredible partner, so it just felt natural," she explained.
And it didn't hurt that by the time she met Jonas, Chopra was already a major star. "I've never been public about my relationships. Especially in entertainment because women have such public lives, we always end up being reduced to a plus one or blahblahblah's' girlfriend," she told People. "I wanted to give myself enough time where I'm able to stand on my own two feet and have my identity as well."
Solid plan.
"Truly this is what worked for me," she continued. "He has to be someone who respects you. Then everything is so easy because you give each other credit for your intelligence, you give each other the benefit of the doubt because you trust each other. There's so much that comes out of that."
You know, like a three-day, over-the-top wedding extravaganza that will take place at the Umaid Bhawan Palace in Rajasthan. There will be not one, but two ceremonies — a traditional Indian wedding and a Christian service officiated by Jonas's father. And at least one of them will involve Chopra wearing a custom gown by Ralph Lauren, and Jonas dressed in a customary turban as he rides in on a horse.
"Are you comfortable on a horse?" Chopra asked her fiancé during the Vogue interview.
"I am," Jonas replied. "I can't wait."
Same.