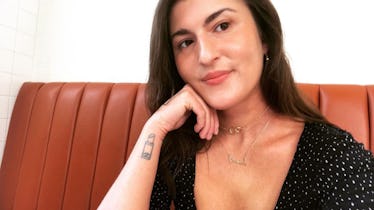 Here's Why I'll Spend $20 On This Makeup Sponge Every Single Time & I'm Not Even Mad About It
Kaleigh Fasanella
There have been very few times when I've tried a product and instantly known that it was going to change my makeup game forever. And yet, that's exactly what happened the first time I used the Beautyblender.
Let's back it up for a minute. You see, I had been using flat-top kabuki brushes to do my foundation for years, and while I had no major complaints, I also had no idea what I was missing out on. Then I started seeing all of my favorite beauty bloggers break out this hot pink sponge to do their makeup. That's when I thought, "Hey, maybe they're all onto something." After all, their foundation always turned out flawless in a their-skin-but-better sort of way I couldn't help but admire.
It wasn't long until I finally got my hands on the OG egg-shaped sponge, and the second I did, I was smitten. I loved everything about it: how lightweight it felt in my hands, its iconic in-your-face color, and the oddly satisfying way it blows up like a balloon when you run it under water.
But when I actually put it to the test, well, that's when your girl was really blown away. My foundation looked dang good, as in better than I'd ever seen it before, and it was all the Beautyblender's doing. The finish was even, diffused, and perfectly blended — no streaks, splotches, or smears. That, and the damp sponge didn't soak up any of the foundation, despite being porous, due to its innovative foam technology. It's now nearly ten years later, and believe it or not, despite all the new competitors on the market, I'm still as loyal as ever to my original pink sponge (though I've since replaced it with a new original, don't worry).
The thing with the Beautyblender is, yes, it's going to cost you a crisp Andrew Jackson. But it also delivers on literally every level, so it's totally worth it. Not only will it last you a cool three to six months with proper care, which is longer than others on the market, but you can also count on it to work consistently right up until you have to toss it. What's more, everything about the beauty sponge serves a clear purpose: Its shape lets you get to hard-to-reach areas, its size fits perfectly in your hand (it's not too big nor too small), and its material is designed to soak up water — not your makeup. It's also worth noting that I've applied just about every type of foundation formula there is with the Beautyblender — liquid, cream, even powder — and it never fails me.
All this to say: If you've yet to try a Beautyblender for yourself, whether it's because you're loyal to brushes or another method of foundation application, take it from me and invest in one, ASAP. You'll never look back.
This post is sponsored by Beautyblender.