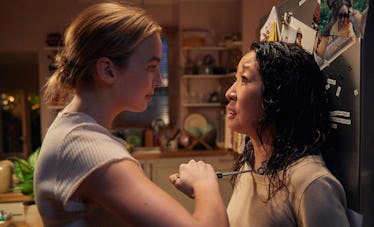 Here's Where To Stream 'Killing Eve' Ahead Of The 2019 Awards Season
BBC
One of the buzziest new shows of this year is Killing Eve, a twisty spy drama that turns a cat-and-mouse chase between an MI5 agent and a globetrotting assassin on its head in wild and unexpected ways. Now that we are officially in the swing of awards season, you will be hearing about Killing Eve a lot more, as star Sandra Oh racks up nominations at the Golden Globes and SAG Awards. If you have not seen the show yet, then here's where to stream Killing Eve ahead of 2019 awards season.
Unfortunately for American audiences, Killing Eve was not exactly easy to watch when it was released in April earlier this year. The series aired its first season on BBC America, where its ratings steadily grew with each new episode — a rarity in network television. The lackluster ratings for the series premiere denote how difficult it was for audiences to find the show organically, but critical praise and social media fandom eventually led more viewers to find the show on BBC America.
Thankfully, Killing Eve is much easier for American audiences to watch now, and now is the perfect time to start bingeing the eight-episode first season since it is poised to win trophies during the fast-approaching awards season. Killing Eve recently began streaming on Hulu, which is the easiest way to watch the show. If you don't have Hulu, you can still watch the first two episodes on BBC America's website with a cable login. Season 1 of Killing Eve is also available for purchase on Amazon Prime and on YouTube.
It is perfect timing that Hulu finally made Killing Eve simple to stream, since fans are definitely going to want to binge (or re-binge) the first season now that its lead actress Sandra Oh is getting all these awards nominations. On Wednesday morning, Oh was nominated for the Outstanding Performance by a Female Actor in a Drama Series award at this year's SAG Awards. The nomination comes shortly after Oh received the same nomination at this year's Golden Globes, and the Globes also nominated Killing Eve as a whole for Best Television Drama. Oh was also up for the Lead Actress in a TV Drama trophy at the Emmy Awards three months ago, but lost the award to The Crown's Claire Foy.
Surprisingly, Sandra Oh's Killing Eve costar Jodie Comer has not received the same awards season love, despite her performance being one of the most widely praised in the series critically. Comer steals scenes as the mysterious antagonist Villanelle, a peculiar but lethal assassin who confuses and tortures Oh's Eve Polastri to no end. Though a definite standout for Killing Eve fans, Comer has yet to receive a major acting award nomination for playing Villanelle, which numerous TV fans have decried as a snub.
But in the end, it is just nice to see Killing Eve getting the recognition it deserves, and Sandra Oh up for more awards is always a good thing. The 25th Annual Screen Actors Guild Awards will air live on Jan. 27, 2019.