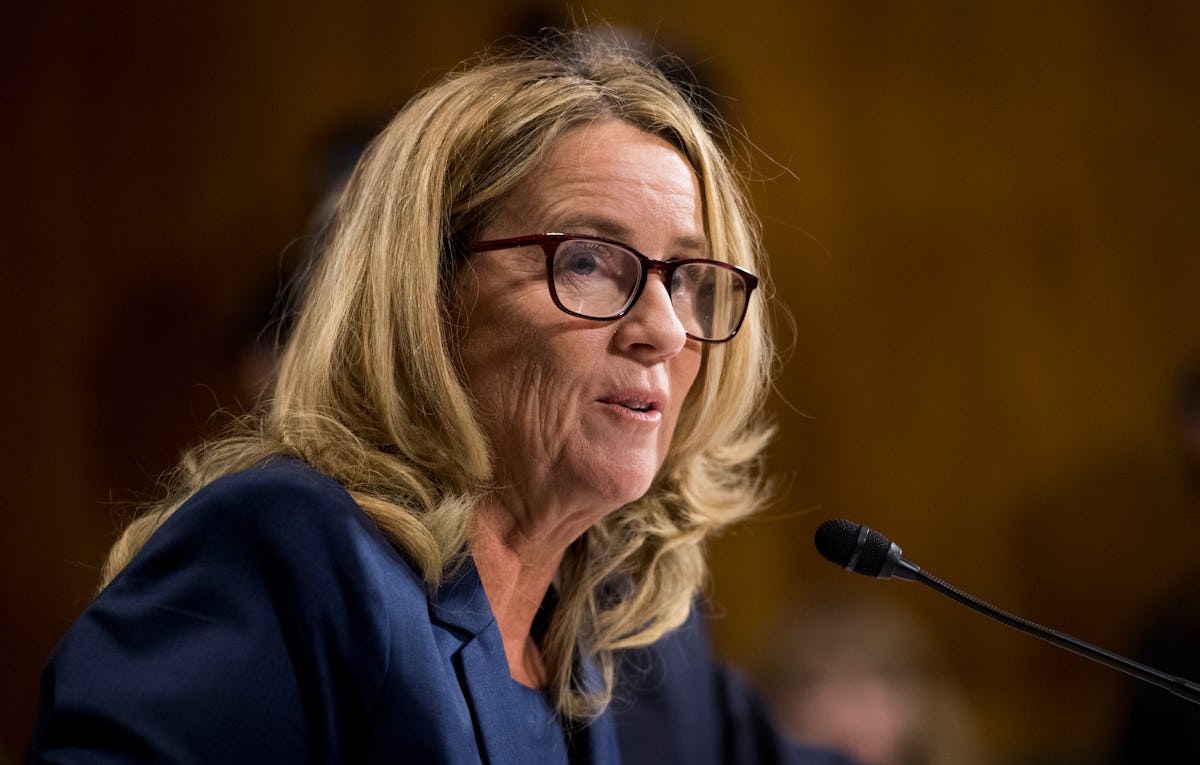 Here's How To Send Christine Blasey Ford A Letter To Thank Her For Her Testimony
Pool/Getty Images News/Getty Images
Christine Blasey Ford may not have been able to keep Supreme Court nominee Brett Kavanaugh from being confirmed to the nation's highest court with the sexual assault allegations she recently leveled against him (which he has categorically denied), but she's had a galvanizing effect on women and survivors all over by going public with her story. In fact, people are writing letters to the California professor to express their appreciation for her bravery in going against the judge with such claims and it's all so, so sweet. If you'd like to join in on the love and share your support, here's where to send a letter to Christine Blasey Ford.
While her social media accounts appear to be scrubbed of contact information — not unsurprising, considering the fact she has reportedly been subject to death threats — there are still more than a few options to get in contact with Ford. According to Bustle, some people have recommended writers use postcards as the best and safest options. There are reportedly two addresses where notes can be sent, including Palo Alto University and her member of Congress' local office. If you want to go with the former, you can send your letter to this address:
Dr. Christine Blasey Ford
c/o Palo Alto University
1791 Arastradero Rd.
Palo Alto, CA 94304
The other address is here.
The action of sending Ford letters was reportedly kicked off after comedian Giulia Rozzi tweeted a picture of her letter to Ford, along with a caption calling on fellow Twitter users to also write messages of support to the professor. Rozzi wrote that she was inspired to write Ford after thinking of Anita Hill discussing how much letters meant to her after she went public with sexual misconduct allegations against then-Supreme Court nominee Clarence Thomas. He, too, was ultimately confirmed to the Supreme Court, despite the allegation, which he denies. Elite Daily reached out to Thomas' team for comment but did not hear back by the time of publication.
Hill discussed how much the letters meant to her in a 2011 essay in TIME in 2011, explaining that they started trickling in to her office at the University of Oklahoma after Thomas was confirmed to the Supreme Court. She wrote:
At first they trickled in, but soon the mailman was delivering my mail in trays, as many as four a day, each with hundreds of letters. Eventually, the deluge overflowed my office and filled a storage closet.
Hill continued, "I found them hard to read, but eventually I decided that I would read them anyway, and they wound up impacting my life in a way I could never have foreseen."
Perhaps the letters to Ford will have a similar effect on her amid the Kavanaugh drama. Her allegations against him were first reported in a Sept. 14 story in The New Yorker, which detailed a letter in which she claimed that Kavanaugh pinned her down and assaulted her at a gathering of friends in the 1980s. He has repeatedly denied her accusations. "This is a completely false allegation. I have never done anything like what the accuser describes — to her or anyone," Kavanaugh said in a statement, per CNBC. Elite Daily reached out to his representatives for further comment, but did not receive a reply. Following Ford's claims, two more women came forward to accuse Kavanaugh of misconduct, which he also denied. Representatives for Kavanaugh did not reply to Elite Daily's request for further comment.
After going public with her story, Ford reportedly began receiving death threats, forcing her and her family to flee from their home. She also came under personal attacks, with many people questioning her credibility and downplaying her allegations, including President Donald Trump. Even though Kavanaugh has since been confirmed to the Supreme Court, multiple reports claim Ford is still facing mounting death threats and cannot return home.
Seems like she might really need some extra support right now, and a "thank you" note commending her courage and strength could be the perfect gesture.