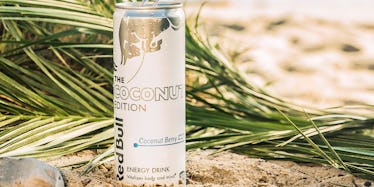 You Can Get A Can Of Red Bull's Newest Tropical Flavor For Free On Oct. 23
Red Bull
You guys, Red Bull is releasing a new flavor and it's a totally tropical treat. Sure, it's the middle of October and the theme of all things pumpkin is in full swing, but that's no reason not to drink this new island-inspired drink. For one day only, you can get Red Bull's Coconut Edition drink for free at 7-Eleven. Here's how to get a complimentary can all for yourself.
On Tuesday, Oct. 23, you can get a free, 12-ounce can of Red Bull's Coconut Edition drink at participating 7-Eleven locations throughout the country. There are a few steps you need to follow in order to claim your free drink. What I'm trying to say is that you can't just roll up to any 7-Eleven without doing your homework first. To get your very own free can of Red Bull's Coconut Edition, you will need to get a promo code first. Head over to the Red Bull website and scroll down to the Coconut Edition can. You will see a red button that says "Click to Redeem." Once you select that option, you will be directed to another page where you can send the coupon directly to your mobile device.
Since the free drink offer will be sent straight to your phone, there's no printing to worry about, and no physical coupons to worry about losing. Seriously, it's that easy. The complimentary drink deal is good until 11:59 p.m. local time on Tuesday, Oct. 23 or as long as supplies last, according to Red Bull. Run, don't walk, to a participating 7-Eleven to get your complimentary can of Red Bull's Coconut Edition.
If this drink sounds familiar to you, it's for good reason. You probably remember it from the summertime when it was released as a limited edition flavor. Well, Red Bull fans loved it so much that the company decided to bring it back for good, making it a permanent flavor in the Red Bull line up as of October, according to the energy drink company.
According to the side of the can, the name of Red Bull's newest flavor is Coconut Berry. The intense tropical tastes will remind you of those sunny summer beach days where you would kick back and relax in the sand with a good book. So, as the temperatures trend cooler, just take a sip of Red Bull's Coconut Edition when you start to miss the warmer weather and you'll be instantly transported to your happy place.
Red Bull's Coconut Edition joins an already colorful lineup of other energy drinks from the beverage company including the Red Edition (cranberry), Blue Edition (blueberry), Yellow Edition (tropical fruits), Orange Edition (tangerine), and Green Edition (kiwi apple), according to Red Bull. There's no way to rank these delicious drink options other than by color. The color scheme seems complete now with the permanent addition of the white and gold Coconut Edition can. It kind of reminds me of all of the vibrant Teavana Packaged Tea individual cups that come in a rainbow of colors.
I wouldn't normally recommend this, but today might be the day to skip the coffee and get your regular daily dose of caffeine from a can of Red Bull's Coconut Edition. It may not actually give you wings, but it will certainly help you power through all of those work meetings bogging down your calendar this afternoon. Remember to claim your free can of Red Bull Coconut Edition and redeem the offer at any participating 7-Eleven only on Tuesday, Oct. 23.