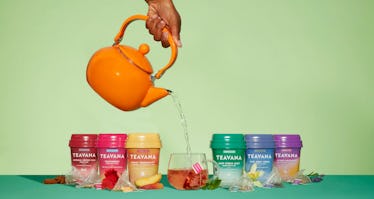 Starbucks' New Packaged Teavana Tea Will Make Your Kitchen So Colorful
Starbucks
Starbucks is brewing up something big (and vibrant) with their latest product launch this summer. The coffee chain released a new array of multicolored Teavana Tea sachets on Tuesday, June 26, and you are going to want one in every color. The premium tea packets are sure to brighten your day, but you'll have to get your hands on them first. Here's where to buy Starbucks' Teavana Packaged Tea.
Leave it to Starbucks to launch the most adorable, multicolored batch of products in recent memory. If you are on the hunt for Starbucks' Teavana Packaged Teas, make sure you're looking in the right place. The brightly-colored brews are already available at Walmart, so stop there for a pack or two. The packaged tea will also soon be available in grocery stores that already carry Teavana Tea products.
"The launch of Teavana packaged tea in grocery is just the beginning of the journey to bring consumers some of their Teavana favorites in a new, accessible format where they purchase their groceries," John Culver, group president, International, Channel Development, and Global Coffee & Tea, said in a press release.
Each colorful cup includes 15, 0.11-ounce tea packets, so you can drink up around the clock. The rainbow of flavors includes six new varieties that are inspired by your favorite flavors from Starbucks, and will be sold for $5.99 each. The craft teas are taste-tested by expert teaologists at Teavana, so you know the brews are going to provide you with the ultimate flavor experience. Each flavor includes "the highest-quality pieces of tea, real fruit, and botanicals," according to Starbucks.
Here's what you can expect to sip on later this summer:
Citrus Lavender: This one pairs together the flavors of bright orange and juicy pineapple with calming notes of lavender and sage.
Youthberry: This flavor is a light and bright mixture of mango, orange, hibiscus and rose petals for a taste of the tropics.
Peach Tranquility: Nothing says summer quite like the sweet and juicy flavors of peach. This one is blended with lemon, verbena, and chamomile for a soft finish.
Jade Citrus Mint: Refresh your tastebuds as lemon citrus and spearmint are combined into this green tea blend.
Imperial Spiced Chai: A new twist on an old favorite. The base of this brew is a Chinese oolong tea, and incorporates the unique flavors of cinnamon, tropical fruit, and citrus.
Earl Grey Créme: Earl Grey is a favorite amongst tea drinkers, and this black tea version really steps it up with the additions of creamy vanilla and light lavender.
The best about all of this is that you can steep your favorite Teavana Teas from Starbucks anywhere you want. The packaging is small enough to toss in your bag, so you can brew a quick cup at work, or throw it in your suitcase while traveling around.
Starbucks is really on their game this summer when it comes to colorful concoctions. Recently, the coffee chain released the Mango Dragonfruit Refresher, which is another brightly-colored (and cheery) brew made for summer. The beverage's mango-flavored magenta hue is mixed with real dragon fruit, and is made without artificial colors and sweeteners. It tastes great, and it's pretty to look at it. A win-win.
Back to Starbucks' Teavana Packaged Teas. I just want to display all six of the splashy brews on my kitchen counter and marvel at their beauty, but I guess I'll have to wait a little bit longer before I can do that. Until then, I'll be scoping out the shelves of my local Walmart and other retailers on my next trip to the grocery store.