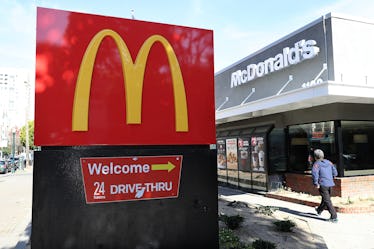 McDonald's Is Selling Fried Cheese Donuts & They Obviously Sound Delicious
Justin Sullivan/Getty Images News/Getty Images
McDonald's has always been relatively open to testing out new menu items. Back in the '70s, they tried out Onion Nuggets, and a decade later, they attempted the McPizza. Unfortunately, neither ended up sticking around. However, if you're a fan of fried cheese (because how could you not be?), the fast food giant just created a new twist on the classic mozzarella stick, and I'm really hoping it's here to stay. If that sounds up your alley, you may be wondering where to get McDonald's fried cheese donuts. They look life-changing.
OK, McDonald's is being totally extra with their latest take on classic mozz' sticks, and I love it. They've literally fried camembert (which is a fancy, creamy cheese for all of you non-dairy queens out there) into a round donut shape. Per Delish, the "donuts" boast a crispy breaded exterior, and a creamy, warm, brie-like interior. They seriously sound like heaven. The best part is that each serving comes with a side of cranberry dip, because why not add a little extra class to this dream-like dish? And if you're wondering why I haven't tried them already, it's because they're only available in Germany right now. So, um, quick trip to Berlin, anyone?
SMH, McDonald's. I'm not mad at y'all, I'm just disappointed. Why haven't these glorious creations already set foot on U.S. soil? If you ask me, fried camembert donuts would be the most popular food in town. They would be my go-to late night snack, as well as the cure to all of my midday slumps (and of course, hangovers). But now, none of that can happen, and I seriously can't take the FOMO. If someone out in Germany could just ring-toss a few across the pond in my general direction, that would be greatly appreciated. Please and thank you.
According to the McDonald's website, you can either order a 4-piece for yourself, or a 7-piece (also for yourself... Joey doesn't share food). According to Delish, the new side only costs 3.99 euros a pop, and that translates to roughly $4.80 in U.S. dollars. Not too shabby. And don't worry, they don't even skimp on the cranberry dip either. Each order includes not one, but two packets of sauce for dunking. These cheesy delights might be hard to get, but they look like ring-shaped snacks of my dreams. I'm determined to get my hands on some ASAP.
I knew from the start that the cheese donut FOMO was too real, but after looking into a few fan reactions, I know for a fact that I truly am missing out. YouTube user JunkFoodGuru, created a camembert donut reaction video, and even though I have absolutely no idea what he's saying for the most part, his "Oh my god," and "mmm" reactions really say it all. Cool, I get it, they're amazing.
It seems as though Reddit has also caught wind of the elusive cheesy creations, and their comments express what everyone is thinking right now. User @BigWetBeef referred to them as "mozzarella cheese stick on steroids," and user @TrueDragon1 responded, "I'm tempted to fly there just for that. Seems awesome." Honestly, same. I'm not even sure how I'm living without them right now, as we speak. They sound too good to be true.
I honestly think camembert cheese donuts are what everyone in the United States needs right now. They're crispy, warm, gooey, and filled with all of the dairy and love that my body needs. If anyone wants to trek to Germany with me, I'm game. Just let me pack my suitcase. (I definitely won't forget my Lactaid.)