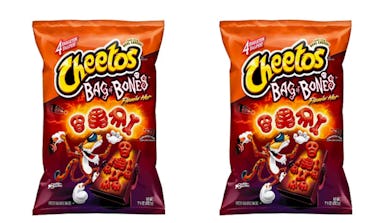 Cheetos' Flamin' Hot Bag Of Bones Is The Halloween-Themed Snack You Need
When most people think of "spooky treats," classic Halloween snacks often come to mind, like candy bars, sucking candies, and obviously, pumpkin spice-everything. Recently, though, Cheetos came out with a terrifyingly hot delicacy, in honor of the world's creepiest holiday, and let me tell you, it's absolutely electrifying. So, if that sounds up your alley, you might be wondering where to get Cheetos' Flamin' Hot Bag Of Bones for your new favorite spooky snack.
Cheetos' Flamin' Hot Bag Of Bones is Frito-Lay's way of wishing horror-lovers and spice fanatics a very happy Halloween. Each bag is filled with a variety of Flamin' Hot Cheeto "bones," including skulls, hands, feet, ribcages, arms, and legs. Even though your parents most likely asked you not to play with your food, at some point in your life, these basically give you permission to do so, as it shows the option of building your own skeleton on the bag. It looks like they're available for $3.79 a bag at Target and on Amazon for $11.99 for two bags as of publication.
Food Instagram account, @JunkBanter originally posted about Cheetos' Flamin' Hot Bag Of Bones on Tuesday, Sept. 18. In the caption, the popular foodie made a totally absurd (and kind of hilarious) pun about calling an attractive older man a "Flamin' Hot Bag Of Bones," and afterwards, he confirmed that they're currently available at Target.
In the Instagram post, he wrote:
A woman in her mid-to-late 20's walks into a bar when someone catches her eye. She is impressed with the physique of a much older man sitting across the bar. She turns to her friend and whispers: "Check out that Flamin' Hot Bag of Bones." It was a 70-year-old Junk Banter, eating nachos by himself. #LifeGoals. (They're at Target, guys.)
LOL!
Apparently, Cheetos' Bag Of Bones isn't a new concept. In fact, according to Bustle, they've come and gone since 2014. However, they weren't always Flamin' Hot. Also, they were originally White Cheddar-flavored, and they didn't start pumping out the Flamin' Hot variety until 2016, two years after the White Cheddar debut. Flamin' Hot Bag Of Bones was a big step for Cheetos' Halloween celebrations, and now, I look forward to getting my claws on Flamin' Hot Bag Of Bones every year.
Don't get me wrong: Flamin' Hot Bag Of Bones look divine, but if you're in the mood for Flamin' Hot everything, make a point to check out prominent Los Angeles chef, Roy Choi's latest pop-up restaurant, Flamin' Hot Spot. The tasty pop-up is open in Hollywood Hills, California from Sept. 18 through Sept. 20, and the menu integrates Flamin' Hot Cheetos into almost anything you could think of, from elotes, to burritos, and even milkshakes. It's going to be the hottest new spot in California (literally), and if you're lucky, you already made a reservation, because unfortunately, there's a huge waiting list right now.
Flamin' Hot Cheetos are basically a gift from above, and now that they've gotten spook-ified, they're everything I could ever want. Snag a bag for your Halloween party or your next night in watching every Saw movie that's ever been made. Regardless of how you decide to enjoy them, they're totally versatile — and perfect for any occasion.