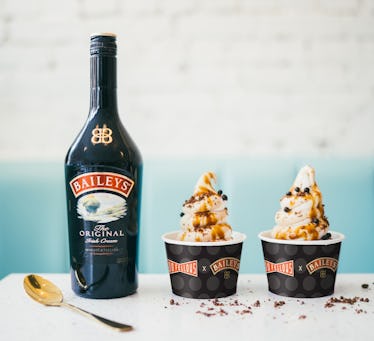 This Baileys-Infused Ice Cream Sundae Is The Boozy AF Treat You Need This Fall
Baileys Irish Cream Liqueur and OddFellows Ice Cream Co.
If you know me at all, you're probably well aware of the fact that I'm a total sucker for anything sweet, and most importantly, booze-infused. I'll do a lot just to get my hands on a tasty treat that's mixed with rum, wine, vodka, or even tequila — TBH, it's all up my alley. So, as you'd probably imagine, I was elated to find out that in honor of Treat Yo' Self Day on Saturday, Oct. 13, Baileys Original Irish Cream Liqueur and OddFellows Ice Cream Co. are joining forces, to make the greatest "treat yo' self" gift known to man (and woman) kind. If you think that might tickle your fancy, here's where to get "Baileys Everyday Sundae" for an alcohol-infused (and totally magical) fall treat — you're welcome.
If you're a New Yorker (like myself), you've probably tried OddFellows Ice Cream Co. at least once, and you have to admit it's delightful on its own. But, FYI, when OddFellows' classic espresso soft serve flavor is mixed with Baileys Original Irish Cream, it makes for an extra tasty (and buzzy) treat. According to Baileys, the base of the sundae consists of Baileys-infused espresso soft serve, which is generously drizzled in Baileys-infused caramel sauce. All of that is then topped off with coffee soil, and most importantly, chocolate wafer pearls. Not only is it delightfully creamy, but every single bite also manages to give off an irresistible crunch. I can whole-heartedly attest to the fact that it's well-worth your $7.
If you somehow weren't already able to tell, I thoroughly enjoyed my Bailey's Everyday Sundae. In fact, I'll shamelessly admit I practically licked the bowl, when I got a taste of this sundae at "EEEEEATSCON," a "one-day food experience" at Forest Hills Stadium in Queens, New York on Saturday, Oct. 6.
Sadly, though, Baileys Everyday Sundae won't be around forever. Yes, you heard that correctly — according to Baileys, the frozen booze-infused dessert is only around for a limited time. You can snag one for yourself at OddFellows Coffee & Cream shop on 55 E. Houston Street, starting Saturday, Oct. 13, through the month of November. So, even if you don't get to celebrate Tom Haverford-style on Treat Yo' Self Day, you'll be able to buy this glorious creation for about a month-and-a-half afterwards.
If dairy isn't quite your thing, on the other hand, New York City's Tipsy Scoop sells boozy sorbet, and in honor of National Rum Day in 2017, the brand came out with the treat of my dreams: a special Spiced Mai Tai Sherbet Sundae. The frozen treat was made with Sailor Jerry's Spiced rum, as well as a mix of citrusy sorbets. All of it came in a cute little pineapple dish, so needless to say, it was the cutest thing I've ever seen in my entire life.
IMO, most desserts are better with booze, and that includes ice cream. Whether you end up buying one in honor of Treat Yo' Self Day, or if you're simply looking to indulge on a random Tuesday, Baileys Everyday Sundae has it all: sugar, alcohol, and coffee. I don't know about you, but it sounds like a dream to me.