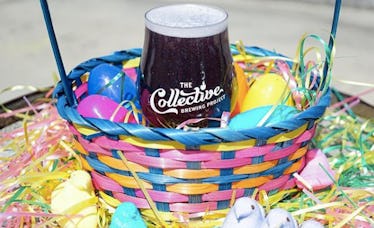 Peeps-Flavored Beer Exists & It's The Glittery Drink You Need This Easter
I know you didn't invite me, but I'm totally down to come to your Easter celebration... but only on one condition. I am going to park myself in front of the dessert table, and nobody is going to stop me. Aside from devouring jelly beans, chocolate eggs, and carrot cake, you'll definitely see me eating a ton of Peeps. They're super gooey, so 'mallowy, and they give me a wildly intense sugar rush that can truly last lifetime. And since a Texas brewery figured out how to incorporate the seasonal 'mallows into their brews, you can drink 'em, too. Here's where to get Peeps-flavored beer.
Peeps and beer, together in a drink? It's a relatively strange sounding combo, I know — but the end result sounds pretty dank. Per Guidelive.com, The Collective Brewing Project's Peeps-infused beer, called Peep This Collab, is brewed with 30 boxes of Peeps, as well as vanilla, lemon, and something called butterfly pea flower, which apparently turns it purple. The beer is finished with edible glitter to make you feel fabulous all day long. Supposedly, it tastes a little tart — and as expected — like marshmallows. Honestly, I wouldn't want it any other way. That sounds amazing.
To make this happen, Collective Brewing Project in Dallas collaborated with Texas-based Lone Star Taps & Caps to make this Peeps-beer concoction a reality. According to Guidelive.com, Lone Star Taps and Caps is planning to officially release the sparkly brew on draft in their taproom on Friday, March 30 at 6 p.m. Lone Star Taps and Caps' Fort Worth and Lewisville locations will also be selling kegs of it as of Saturday, March 31 at 6 p.m. So basically, all of your Texas-based Easter parties are sure to be lit AF. Peep This Collab will also be available at Dallas' BrainDead Brewing in Deep Ellum, at Craft Pride in Austin, and at Hops Meet Barley in Houston, in the beginning of April. Yeeeeeeehaw.
Ryan Deyo, the head brewer and co-founder of Collective Brewing Project, says that the Peeps-infused beer isn't totally outlandish (in terms of what they're used to brewing). He told Guidelive.com that they thought it would be fun to create something fun and not serious, which led them to come up with Peep This Collab.
Deyo told Guidelive.com,
Several of us were just sitting around the brewery talking about how beer has become this super serious thing. I've been on a kick to assert beer should be a fun thing. We make a beer with ramen noodles, so Peeps isn't really a stretch.
If (for whatever unimaginable reason) you think that Peeps-infused beer sounds a little too bizarre for your liking, you probably haven't yet heard about Peeps as a pizza topping. Yep, it's absolutely devastating, but it totally happened, and I think my heart has officially shattered. An infamous Twitter user named Austin Braun decided to create the unique concoction, consisting of a DiGiorno frozen pizza, yellow Peeps, and blue Peeps. It was a rare sight to see, and if I'm being totally real, I wish I could un-see it for good. Peeps are great for eating, fantastic when brewed into a beer (apparently), and probably shouldn't be combined with pizza. That's essentially the bottom line.
OK, so... I know that I wasn't officially invited to Easter dinner or anything, but I'll bring some Peep This Collab kegs, and we'll call it even. That's fair, right? There's nothing more crowd pleasing than glittery, marshmallow-flavored beer, so there's truly no doubt in my mind that it'll be one of the most legendary hostess gifts of all time. Happy Peep-ster!