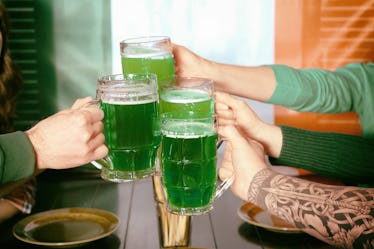 Here's Where To Buy Green Beer, So You Don't Get Pinched This St. Patrick's Day
Shutterstock
There's no better way to celebrate St. Patrick's Day than enjoying a cold pint of beer in your greenest attire. Actually, maybe there is one way — make the beer itself green. If you want to get in on that action, here's where to buy green beer for St. Patrick's Day.
But first, a little history about this uniquely colored brew. Green beer is generally credited to an Irish-American physician, Thomas H. Curtain, who apparently created it by adding a touch of blue dye to the beer for his New York clubhouse in 1914. Eventually, the concoction took off and became a mainstream symbol of the Irish holiday — even though green beer isn't an Irish tradition, per se. According to United Press International, people in Ireland were still being introduced to green beer as late as 1985.
Since St. Patrick's Day falls on a Tuesday this year, you might want to have a brew or two before March 17. Thankfully, there are plenty of bars getting the party started the weekend of March 13. Here are a few ways you can get some green beer to celebrate St. Paddy's Day.
This article was originally published on