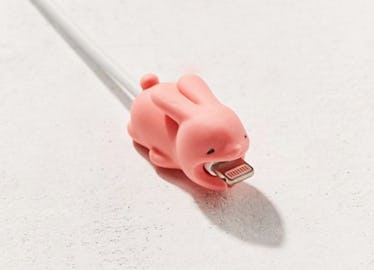 Cable Bites Are The Cutest Way To Keep Your Phone Charger Cord In Tact
An adorable new smartphone accessory is taking over the internet, and chances are high you've already seen these cute little animals all over your Twitter feed. Cable bites are officially the newest and cutest way to dress up your phone while it is charging. Naturally, everyone wants one, so don't expect them to be easy to come by. Lucky for you, I've rounded up a few places that still have the lovable little creatures in stock (for now at least). Here's where you can buy cable bites.
Believe it or not, other than just being incredibly cute, of course, cable bites are a useful product that can help to protect and extend the life of your smartphone charging cord. We've all been there. Your smartphone charging cable is pretty beat up and starting to fray at the end — which, by the way, might be a major fire hazard. Now, thanks to cable bites, you might actually be able to extend the existence of your cord before it bites the dust. A nifty invention, right?
It almost appears that the little critters are yawning, but that's exactly the spot where you'll snake your charging cable through their mouth and clip them onto the bottom of your phone or computer. Voilà! It's that simple — and undeniably delightful to look down at your phone and see a sheep or koala bear chomping down (not literally) at the base of your phone.
Dreams, a Japanese retail website, created the too-cute-for-words cable bites we all know and love. Check out this speciality Sesame Street collection featuring all of your favorite characters that will totally take you back to the "sunny days" of childhood. Or, take a look at this Ultra Monster's six-pack which includes a skeleton dinosaur, dog, and some other charmingly frightening animals.
Unfortunately these items are only available in stores if you live in Japan, but we do come bearing some good news, too. Dreams also sells cable bites on Amazon — but it doesn't come with Prime shipping so be prepare to spend around $20 for just one of the little creatures. Amazon has more than just a few of to choose from, too, including an alligator, shark, panda, tiger, chameleon, turtle, and a hedgehog (the list could keep going but we'll stop it there). What could be cuter than one of these little guys snacking on the end of your phone? Not much.
For a fraction of the cost, head on over to the Urban Outfitters website. The retailer sells four different types of cable bites such as the blue whale, pink rabbit, blue shark, and black and white panda bear. A few things to note: The items are on pre-order until Tuesday, May 8 so you'll have to be patient if you do decide to buy one. That said, these little guys are much, much cheaper than they are on Amazon at just $6 a pop, plus applicable taxes and shipping. Totally worth the wait.
Another site you can scope out to score the most adorable little cable bites is PiqGifts.com. They are similar in price to Urban Outfitters: $5.45 each plus taxes and shipping. But unlike Urban Outfitters, PiqGifts.com offers about a dozen different kinds of the animals for you to choose from. Although, a few of the critters are already sold out, like the panda and chameleon.
So if you're like me and are totally in love with the pint-sized critters, you'd better snatch one up ASAP. What are you waiting for? Click back over to your shopping cart and check out before these elusive little animals disappear.