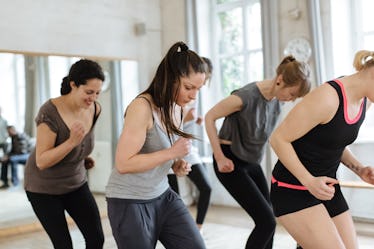 Here's What Your Favorite Workout Class Reveals About Your Personality
If you're enrolled in a workout class that you're absolutely obsessed with, then you know the awesome feeling you get when you're nearing the end of the work day, and you start looking forward to that incredible sweat sesh you have planned. You might even have a favorite instructor who always knows exactly how to take the class to the next level. Whether you're a diehard SoulCycle fanatic, or you can't get enough of the endorphins that come with pilates, your favorite workout class reveals a lot about your personality, how you care for yourself, and what goals you prioritize.
For instance, if you're super into getting your sweat on in a workout class, it's likely because you crave group environments and connection. I don't know about you, but I absolutely adore having a sense of community when I'm going after my fitness goals; it just makes everything so much more fun. There's truly nothing like the feeling of being surrounded by all that positive energy when you low-key feel like you're going to tip over into a puddle of your own sweat.
The point is, when you look a little deeper at how and why you choose the workout classes you love so much, you'll see that your choices reveal so much about who you are and what makes you tick. From CrossFit to kickboxing, here's what your go-to workout class says about you.