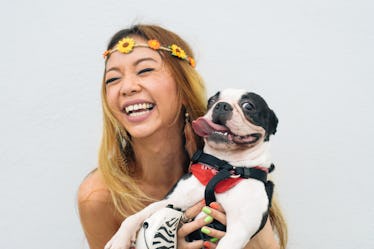 Here's What Your Favorite Dog Breed Reveals About Your Personality
At a time when the world has never seemed so precariously poised for the apocalypse, it has never been a better moment for you to invest in some unconditional love. The way you interact with animals can say a lot about who you are as a person, and if you're a massive dog-lover like I am, then you might be wondering what your favorite dog breed reveals about your personality. After all, dogs are man's best friend, right?
By the time you're in the real world, doing adulting stuff, you've probably run into your fair share of dogs, and there's a pretty good chance you have a running list of all the types of pups you love the most — a list that may even be tucked into your back-pocket at all times, on the off-chance that you stumble into a shelter to find your forever-friend one day.
Paying attention to the things you love is one of the best ways to learn more about yourself. So it only makes sense that your favorite type of dog sheds a little light on the inner workings of your soul, right?
For your introspection, here are five different types of dogs, and what they might say about your personality.