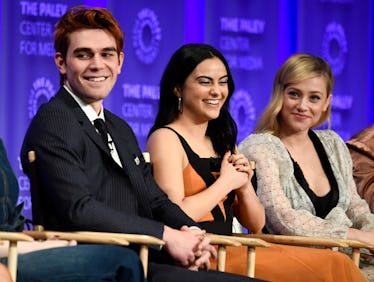 Here's What The 'Riverdale' Cast Looked Like When The Show Started Vs. Now
Frazer Harrison/Getty Images Entertainment/Getty Images
Plenty has changed since Riverdale premiered in January 2017. Gone are the days of solving shady murders and casual sibling disappearances. Now, Riverdale High's teens are battling masked serial killers and sinister mob villains (yes, Hiram Lodge, I'm including you in that group). Another thing that's changed? The Riverdale cast's appearances. The young actors who make up the show's cast started out baby-faced, but now that they've hit it big, they've started to lose their wide-eyed innocence. Here's what the Riverdale cast looked like when the show started versus now.
It's been just over a year since Riverdale premiered, but honestly, you can't blame these young actors for looking a little bit older. There is literally always something bad going on in Riverdale, so yeah, these guys are probably stressed 24/7. Obviously the show is fictional, but when you spend five days a week pretending to catch a masked murderer or mourning the loss of yet another dead classmate, you're bound to take at least a little bit of that home with you. At least everyone in the Riverdale cast (with the exception of KJ Apa — poor Archie) is over 21, because hanging out with your cast mates and unwinding over a big glass of wine is probably very necessary after those long days on set.
Here's how much the Riverdale cast has changed since the show started in early 2017.
KJ Apa (Archie): Then
Now
Apa looks pretty similar, but I think he's definitely lost some of his baby fat. He also looks way more muscular on this season of Riverdale (or is that my imagination?). Must be all those shirtless push ups that Archie does every night before bed.
Lili Reinhart (Betty) and Cole Sprouse (Jughead): Then
Now
It's 2018 and Reinhart and Sprouse are taking the Met Ball by storm (and maybe finally confirming those dating rumors?). These two have been taking pics together since the very first day Riverdale began filming, and they don't show any signs of slowing down. They've both gotten more sophisticated style-wise since Riverdale premiered, but other than Sprouse's jawline becoming a little more defined, these two look the same as they did on day one.
Camila Mendes (Veronica): Then
Now
It's only been a little over a year since Riverdale premiered, but Mendes looks way older than she did when filming began. She's still got those bomb eyebrows and gorgeous glow, but like her on-screen love interest, her face has matured. Fame hasn't changed Mendes too much, though: the star is still posting makeup-free pics to remind everyone that beauty comes from within.
Madelaine Petsch (Cheryl): Then
Now
Riverdale stardom looks good on Cheryl Blossom. Petsch has one of the best Instagram games around, so head over there to see her glow-up (OK, it's not really a glow-up if you looked amazing to begin with).
Ashleigh Murray (Josie): Then
Now
Murray is a little older than her Riverdale High counterparts (she's the only high schooler to hit the 30-year mark), but she looks every bit as young as Reinhart and Mendes. Just look at that flawless skin! Clearly, that hasn't changed since her time on Riverdale began, because Murray is just as gorgeous as she was on the first day of filming.
Casey Cott (Kevin): Then
Now
Look at that scruff! Cott definitely looks older than he did when Riverdale began, and the grown-up beard isn't the only thing making him look more mature. Cott's style has evolved since he hit it big on the CW show, and when he's not filming, he's been known to wear an adult-looking sweater or two. Or, you know, a tacky Christmas sweater.
Let's hope that Riverdale lives on forever and gives these amazing actors a chance to really age. Maybe the Riverdale High teens graduate and solve real-world mysteries in college? Sounds like great TV to me.