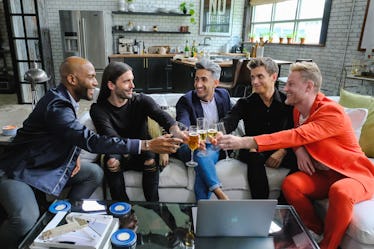 Here's What Each 'Queer Eye' Guy Was Doing Before They Got Mega-Famous
Netflix
It's hard to imagine Queer Eye's cast members in the dark days when they weren't a fierce team determined to fuel the world with beautiful goodness, but the gang was pursuing their dreams individually not so long ago. Karamo Brown, Antoni Porowski, Jonathan Van Ness, Tan France, and Bobby Berk are currently working on Season 3 of their hit Netflix series, but before they were making us cry on a regular basis, the men were hustling just like the rest of us. Here's what the Queer Eye Fab Five were doing before fame came calling.
Before Season 1 of Queer Eye hit Netflix in February 2018, the five stars stuck out to producers among a casting round of nearly 300 people. The chemistry the men found with each other was the closest thing we have to magic, but bringing the group together was the emotional culmination to some unsteady times and previous fleeting encounters with widespread fame for the Fab Five. Such is the way of show biz, but of course, I have great faith in the men having found their deserved place of stability in Hollywood. You don't earn four Emmy nominations if you're only a passing phase, right?
For Karamo, the culture expert of the group, you may have known of him before Queer Eye if you're up to date with your knowledge of MTV in the early 2000s. He was a cast member on The Real World: Philadelphia in 2004, becoming the first openly gay black man on reality TV. Back then, Karamo discussed struggling with his newfound sexuality and cameras following him on that journey. Cameras may've made Karamo nervous during his first TV experience, but I think it's safe to say that he and the camera are pretty cool with each other nowadays. He was also a social worker and has two sons, one of whom his high school girlfriend birthed without initially telling Karamo.
Grooming guru Jonathan was a hair stylist in Los Angeles and New York before finding success with his 2013 Funny or Die Game of Thrones recap show, Gay of Thrones. The series was first nominated for an Emmy in 2016 and earned another recognition this year, proving that you don't always have to give up your passions if a bigger opportunity comes your way. Jonathan also launched a podcast, Getting Curious with Jonathan Van Ness, in 2015. And he still manages to transform deserving heroes into their best selves? Can you even?
Meanwhile, food and wine expert Antoni Porowski probably had the most traditional, struggling artist-esque approach to where he is now. Working as a actor and a restaurant chef, Antoni met Chopped host and former Queer Eye residential foodie Ted Allen at a book signing. When the two began chatting, they became fast friends, and Ted even hired Antoni as his personal assistant and chef. Ted has since defended Anonti for his seemingly simple recipes, but the most special thing about this friendship is definitely how Antoni essentially became Ted's mini me.
Like Antoni, design expert Bobby had a rags-to-riches start, first moving to New York with only about $100 to his name. After working at Bed Bath & Beyond and Restoration Hardware, he became the creative director at Portico Home + Spa, which led to Bobby launching his own design company in 2006. The success of Bobby Berk Interiors + Design has led to Bobby appearing as an expert on HGTV, Bravo, NBC, and CBS.
Tan France, the show's fashion aficionado, also had an unlikely climb to fame, moving to Utah and meeting his husband there after living in New York. Following several years of working in women's fashion, Tan founded his own women's clothing line, Kingdom & State, in 2011. In this interview, he calls the typical customer "our girl," which is quite adorable. Now Tan is all about the French Tuck, but it's great to know that he's ready to give any woman prime fashion advice at a moment's notice.
If Queer Eye's message of tolerance and love wasn't enough to make you smile, the Fab Five coming from such different walks of life and becoming a powerful squad will inspire happy tears even more. Do we really have to wait until 2019 for more Queer Eye?
Seasons 1 and 2 of Queer Eye are currently streaming on Netflix.