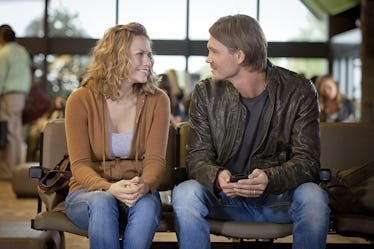 Here's What The Cast Of 'One Tree Hill' Is Up To Now, If You Were Wondering
The CW
It's been almost 15 years since One Tree Hill first premiered, but thanks to Netflix, the teen drama is still relevant today. The WB/CW series turned relatively unknown young actors into major stars, and all these years later, many are still best known for their work on the show. What are the OG actors doing in 2018? Here's what the cast of One Tree Hill is up to now that they've put the long-running series behind them.
When One Tree Hill first premiered in 2003, no one expected it to be a massive phenomenon. The show originally began as the story of two half-brothers competing for playing time on their high school basketball team, but by the final season, high school drama was old news. Unlike other shows, One Tree Hill wasn't afraid to adjust its timeline, and by Season 9, its main characters had graduated from high school and college and were dealing with very real, very adult problems.
One Tree Hill officially ended in 2012, and in the years since, the cast members have branched out on their own. Some have achieved more success than others — looking at you, Sophia Bush — but they're all doing interesting things in the industry that first made them famous. Here's what your favorite OTH stars are up to in 2018.
Chad Michael Murray (Lucas Scott)
One Tree Hill's heartthrob has had quite a career since the show ended. The actor appeared in both seasons of the ABC series Agent Carter as Jack Thompson, and he recently starred as record label exec Sam Phillips in CMT's Sun Records. In addition to his acting career, Murray has published two novels, the most recent of which, American Drifter: A Thriller, debuted in November 2017.
James Lafferty (Nathan Scott)
Lafferty is still a Hollywood mainstay (he recently starred in WGN's Underground as U.S. Marshal Kyle Risdin), but in recent years, he's shifted his focus off-screen. The actor directed a few episodes towards the end of One Tree Hill's run, and in 2015, he took those skills to E!, where he's been directing episodes of The Royals for three seasons. Lafferty has also tried his hand at writing and producing: The star co-wrote (with OTH co-star Stephen Colletti!), produced, directed, and stars in an upcoming TV movie called Everyone Is Doing Great. Talk about a triple (or quadruple?) threat.
Bethany Joy Lenz (Hayley Scott)
Nathan's wife has been living it up since OTH ended. The star (who now goes by Joy Lenz) has racked up countless movie and TV credits, and she also has a successful music career. In 2012, Lenz divorced her husband after seven years of marriage, and judging by her Instagram, it seems like she's loving being a single mom to her seven-year-old daughter, Maria. The actress/singer has a new movie coming out this year called Poinsettas For Christmas, so be sure not to miss it!
Sophia Bush (Brooke Davis)
Bush's career has taken off since One Tree Hill ended. In 2018 alone, the actress has appeared in the crime thriller Acts of Violence, the recently-cancelled sitcom Alex, Inc., and Incredibles 2 (she voices Voyd), and she just finished up a three-year stint on the NBC procedural Chicago P.D. Off-screen, Bush has become a vocal activist for women's rights, environmental issues, and LGBT+ rights, so basically Brooke has only gotten more awesome since we last saw her.
Hilarie Burton (Peyton Sawyer)
Like her fellow OTH co-stars, Burton has stayed in the industry. In 2015, the actress starred alongside Halle Berry in the sci-fi thriller Extant, and more recently, she starred in the hit Fox series Lethal Weapon. When she's not acting, Burton loves to spend time with her two kids, August and George Virginia, who she shares with actor Jeffrey Dean Morgan (The Walking Dead).
Paul Johansson (Dan Scott)
The Scott patriarch has appeared in various TV shows and movies since he left One Tree Hill, including Mad Men, Once Upon A Time, and Bones. If you need your Dan Scott fix ASAP and you've already binged your way through OTH, be sure to check him out as Dmitri, the leader of the vampires in the Syfy series Van Helsing.
Lee Norris (Marvin "Mouth" McFadden)
How can you forget about One Tree Hill's resident news anchor, Mouth McFadden? From 2014 to 2017, the former Boy Meets World star reprised his role as Stuart Minkus in Girl Meets World, and he's also appeared in small roles in Gone Girl (he plays a police officer) and The Walking Dead.