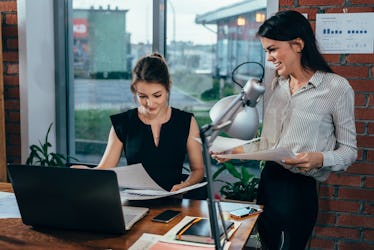 Here's How You Should Act During Your First Assistant Job, According To A Boss
It's more than likely one of your first jobs after graduation will be some sort of assistant to an individual more experienced in your field. In order to truly make the most of your position, it's important to know what your boss is looking for in their go-to employee. To help you learn as much as you can while helping your boss, Elite Daily reached out to professionals who know exactly what makes a great assistant.
Dedicating your time as an assistant to producing great work won't go unnoticed — and you can also use your time as the right-hand man (or woman) to learn about which direction you want to take your career. It's a great opportunity to get hands-on experience in whatever field you're interested in pursuing. If you pay attention to what's going on around you, you can make being an assistant as beneficial to yourself as it is to the person for whom you're working.
One of the professionals I talked with, Melissa Cintron, a partner in the Insurance Defense and Corporate and Real Estate practice groups at Harrington, Ocko & Monk, LLP, shed some light on what kinds of qualities assistants should posses in order to succeed.