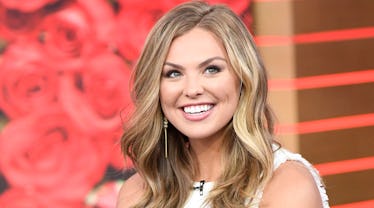 Hannah B.'s Zodiac Sign Proves She's Serious About Finding Love
After watching Colton Underwood break Hannah B.'s heart on the last season of The Bachelor, I was excited to see her finally get a real chance at finding her happily ever after as this season's Bachelorette. But folks, I'm getting worried. Seeing her cry over Luke P. is tough stuff. I'm still hanging in there and hoping she finds exactly the right partner to balance her out, because since Hannah B.'s zodiac sign just so happens to be Libra, finding harmony is essential to her long-term happiness.
As I was watching Hannah fall for Luke P., who may or may not (can you guess how I feel?) be worthy of her love and attention, I couldn't help but wonder what Hannah will be like as a partner after the final rose is handed out and the camera crew goes home for good. Since we won't be able to witness that part of her relationship, our best bet is to look to the stars and consider what her zodiac sign can tell us. Hannah was born September 24, under the sign of Libra, and if you're at all familiar with dating someone who falls under this sign, then you know it's no wonder all the contestants are so into her. Here's what we know about what it is like to be loved by a Libra.