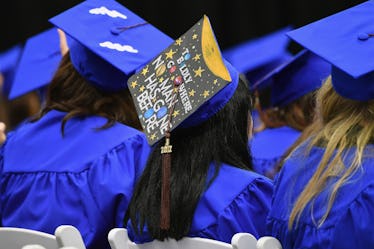 Here's How 8 Women Are Paying Off Their Student Loans
Dia Dipasupil/Getty Images Entertainment/Getty Images
College can be one of the most exciting and fulfilling times in a person's life. However, graduating comes at a hefty price tag for many... and paying off those student loans can be a tricky (and lengthy) process. For those who are enjoying that sparkly new degree, but wondering how they're going to pay for it, these eight women have explained their student loan payment strategy. Take notes, people.
The student debt crisis is one of the most serious issues facing college graduates today. According to the U.S. Federal Reserve numbers, student loan debt in 2019 is overwhelming, with some 45 million borrowers owing over $1.5 trillion as of the end of 2018. In 2017, borrowers owed an average of nearly $29,000 of student loans, and per CNBC, it can take over 20 years to pay that debt off. While there are student loan forgiveness programs that can assist graduates with the hefty price tags, that doesn't mean your student loans will just vanish.
While the thought may be nerve-wracking, don't fret, graduates. Before all of you start stressing out about the process, here's some advice from eight women about their strategy to pay off student loans, because some helpful hints never hurt.