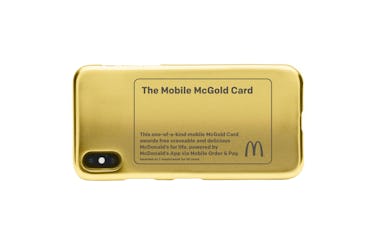 You Can Enter To Win Free Food For Life At McDonald's, So Bring On The Nuggets
As a relatively spiritual person, I totally buy into a handful of myths that are out there. Take the rumor about alligators roaming the sewers of New York City, for example. It's a far-fetched tale, but it could be true. Anyway, you may have heard a thing or two about the elusive "McDonald's McGold Card." Apparently, it actually exists. If you don't believe me, read on to learn how to win McDonald's' McGold Card for free food. I swear that this isn't an urban legend, you guys — it's too freakin' real.
I'm not usually that great at entering contests, but this opportunity to win the McDonald's McGold Card requires very minimal effort. According to the press release, all you have to do is place an order with Mobile Order & Pay in the McDonald's app anytime between Friday, Aug. 10, and Friday, Aug. 24. When you do that, you'll be automatically entered for a chance to win the McGold card, which is your ticket to free Mickey D's for life, which is defined as two meals a week for 50 years, per McDonald's. You can enter once a day, and the winner will receive a gold-plated McDonald's McGold Card phone case and a check for $51,000 (The prize is awarded as $1,000 loaded onto your McDonald's app and a $51,000 check). Yes, you heard that correctly. You guys, this prize is so worth the 30 seconds it takes to enter the giveaway.
You can even enter the sweepstakes without a purchase by simply sending an email with the day's date (e.g. 08/10/18) in the "Subject" line and your full name in the body of the email to entry@amoeentry.com, per the McDonald's website. Really, you have no excuse not to shoot your shot for the McGold Card!
In a McDonald's press release, Hashim Amin, the Head of U.S. Digital at McDonald's, explained that the fast food giant rolled out their latest feature, Mobile Order & Pay, because it boosts customer convenience. He shared that the award of the McGold Card merely celebrates this glorious new feature.
In the release, Amin said:
Mobile Order & Pay is just one of the latest ways we are transforming convenience and value for our customers. To celebrate Mobile Order & Pay, we're giving one of our mobile customers the chance to win the McGold Card and join a select group of McDonald's fans, just for using the app.
Per the release, this is the first time that McDonald's has raffled off a McGold Card in a contest, but it isn't the first time it's been awarded to someone. The first one was given away to the mayor of St. Louis, Missouri in 1965, when he led a ceremony introducing The Gateway Arch. Since then, a few McGold Cards have been given out to other important people, like the governor of Michigan, as well as the king of Sweden. However, only one card will be given away after Aug. 24, so make sure that lucky winner is, in fact, you.
If you want to get another look at the shiny McGold card that could be yours, you can check out more information on the McDonald's website or in the McDonald's app.
This might be hard for you to believe, but McDonald's McGold Cards do, in fact, exist. The best part is, however, that winning one in the next two weeks is entirely possible. Even if you aren't much of a contest person, it's totally worth entering, and it's super easy. And in all honesty, what's better than free Mickey D's for life?