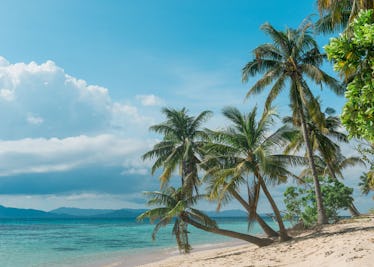 Here's How You Can Score A Free Week In Tahiti, Because You Deserve A Vacay
Stocksy/Tara Romasanta
Come January, many employees will be closing out 2018 with unused vacation days and missing out on bucket list memories and priceless moments. This year, make sure you're playing as hard as you're working, courtesy of a complimentary tropical getaway from United Airlines. Here's how to win a free trip to Tahiti, because yes, you do deserve that "OOO" week free from everything but your well-earned relaxation.
United Airlines is calling overworked employees who've been hit with wanderlust FOMO now that summer has (un)officially come to an end to apply to their sweepstakes, per Travel + Leisure. Until entries close at 11:59 p.m. CT on Sept. 25, individuals can nominate a workaholic coworker or even themselves for a gratis week-long trip to Tahiti. Here's what's up for grabs, according to United's website. A pair of roundtrip tickets from your destination through San Francisco as well as three nights at the Intercontinental Tahiti Resort and Spa, two nights at the Intercontinental Moorea Resort and Spa, and two nights at Maitai Rangiroa will be gifted to the winner and their guest of choice, and TBH, it sounds like a dream getaway to paradise.
Not only are the luxurious digs seriously like something out of a vacation commercial with overwater bungalows, tranquil turquoise lagoons, infinity pools, and fine island dining, but you're also getting some pretty amazing add-ons to make your adventures between the different French Polynesian islands as seamless as possible.
Prepare to turn off the signal on your phone and get to island hopping, because United Airlines is making sure all potential stresses are taken care of before you even get there. The grand prize winner will also receive free transportation between the different islands, an excursion on either Tahiti or Moorea island, as well as a $2,000 prepaid card that you can use on meals, coconut-infused tropical drinks, shopping, or what have you. While it's not touted as an all-expenses paid vacay, it pretty much is one.
The one caveat is with the application process. According to its website, United Airlines is searching for "the hardest working person," so slackers need not apply. On the submissions page, you can identify the person you think is most deserving of the vacation, along with a brief essay with a limit of 300 explaining why your pick, "the hardest working person," deserves deserves some time off in Tahiti. United will be judging the application in conjunction with Project Time Off, which is all about encouraging overworked Americans to take advantage of their vacation days. While a photo of your choice is optional, I'm thinking it may give you some brownie points.
According to United's fine print, the successful applicant will be notified of their win "on or around" Oct. 11. While they don't specify the exact dates that the winner will be heading to Tahiti, I'd plan for a November or December getaway as the Chicago-based airlines will start operating their nonstop service between San Francisco International Airport and Fa'a'ā International Airport in Papeete, Tahiti for the first time on Oct. 30.
This year, there's a pretty amazing incentive for you or a hardworking coworker to finally kick your habit of leaving vacation days on the table. So I'd run, not walk, to your nearest computer and start drafting that application ASAP. Tahitian beaches, endless summer, and countless fruity drinks are waiting for you.