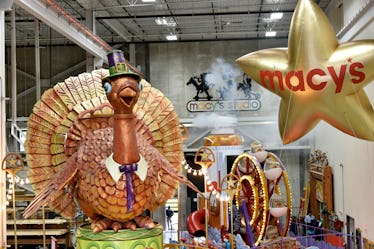 Here's How To Watch The 2018 Macy's Thanksgiving Day Parade Before You Chow Down On Turkey
Eugene Gologursky/Getty Images Entertainment/Getty Images
The big day is almost here, you guys! Yes, it's almost Thanksgiving. But I'm talking about the annual Macy's Thanksgiving Day Parade. I happen to really love this thing for some reason. I mean, I do have vivid memories of being dragged to the event by my dad every year when I was little, so that probably has something to do with it. Anyway, this year, the festivities will go down on Nov. 22, when the parade celebrates its 92nd year of taking over the streets of Manhattan. Here's how to watch the 2018 Macy's Thanksgiving Day Parade if you're planning to embrace the holiday spirit.
OK, so the parade kicks off at 9 a.m. on Thanksgiving day. The route stretches for 2.5 miles, beginning at 77th Street and Central Park West, and ending in Midtown in front of Macy's Herald Square on 34th Street. And since nearly 3.5 million people turned out for last year's parade, and Macy's is expecting the same turnout this year, if you're planning to actually go to this thing, you'll have to leave plenty of time to deal with all the traffic.
A better option? Stay home and watch the live broadcast on NBC (and in Spanish on Univision). The Today Show's Savannah Guthrie, Hoda Kotb, and Al Roker will host the three-hour broadcast, and I really hope those three ham it up for cameras as much as they did during the 2018 Winter Olympics.
Remember this?
You probably want to know if you can stream this baby anywhere. Well, guess what? You're in luck, because NBC has partnered with Verizon and you can live stream all the action on Verizon's YouTube page. You can also watch online by logging onto nbc.com/live or via the Watch NBC app.
Oh, and did I mention that John Legend will be performing? So will the Rockettes of course, as well as the casts of four Broadway musicals — Mean Girls, My Fair Lady, The Prom, and SUMMER: The Donna Summer Musical.
Other performers include: Martina McBride, Anika Noni Rose and the Muppets of Sesame Street, Leona Lewis, Pentatonix, Bad Bunny, Barenaked Ladies, Bazzi, Fifth Harmony's Ally Brooke, Kane Brown, Brynn Cartelli, Jack & Jack, Ella Mai, Tegan Marie, Rita Ora, Carly Pearce, Sugarland, Ashley Tisdale, Mackenzie Ziegler, and Johnny Orlando.
According to Macy's, this year's parade will feature 16 giant character balloons; nearly 30 legacy balloons, balloonicles, balloonheads and trycaloons; more than 1,000 cheerleaders and dancers; more than 1,000 clowns; and 12 marching bands.
Don't worry, I had no idea what a trycaloon was at first, either. But it turns out, they are those balloon-tandem tricylcles that feature an inflatable character pedaling in the back seat — like this one of Clara giving The Nutcracker a lift.
There are a few new balloons to look out for this year, as well. There's Sunny the Snowpal, a giant Goku from the Dragon Ball Z series, and the four elves from the new Netflix film The Christmas Chronicles — Fleck, Bjorn, Jojo, and Hugg.
There's also a brand new Fantasy Chocolate Factory float, a newly designed Rise of the Teenage Mutant Ninja Turtle float, and a Santa's Saint Bernards Save Christmas float, based on a new animated holiday special of the same name.
And speaking of the big red guy, be sure to be on the lookout for him, too!