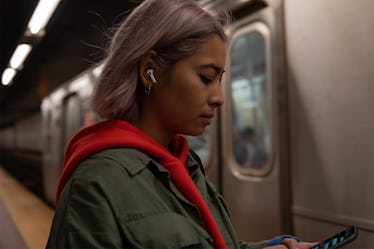 You Can Turn Off AirPods Pro's Active Noise Cancellation With These Easy Steps
Ever since Apple quietly announced the news of the AirPods Pro on Monday, Oct. 28, customers have been buzzing about all the cool new features, including the company's first active noise cancellation update. Whether you've already grabbed a pair of the new earbuds or you're planning to in the coming days, you might be wondering how to turn off Active Noise Cancellation on AirPods Pro for situations when you do want to be able to hear your surroundings. Luckily, the company's third generation of the wireless earbuds come equipped with a new button on the stem that helps you switch back and forth pretty seamlessly.
When the AirPods Pro were announced on Oct. 28, one of the first things I noticed was the product's focus on an improved, more immersive sound. In addition to a new design featuring flexible silicone ear tips, which come in three different sizes and adapt to your ear shape to act as a seal against unwanted background sound, AirPods Pro also feature two different microphones to provide a better noise cancellation experience. With both microphones constantly adjusting to provide the best auditory experience possible minus the sounds of the outside world, you can be sure that you can tune in to all your favorite bops, podcasts, and TV shows without interruption.
However, for those times when you don't want to completely block out the outside world, whether you're waiting for your name to be called at your favorite coffee spot or you're listening for your stop on public transportation. Luckily, the new AirPods Pro offers the option to switch to Transparency Mode, which is basically the "outside world layered with your music or your phone call." Again, the internal microphones and the overall design of the AirPods makes this happen with one new sensor on your earbuds' stem.
To switch from Active Noise Cancellation to Transparency mode, or vice versa, all you have to do is press and hold the force sensor on your earbuds' stem. Once you hear a chime, you'll know that you've switched between modes and should be able to hear the difference shortly.
The force sensor can also be used for a few others things, as pressing it once will enable play, pause whatever you're listening to, or start a call, while pressing twice will skip ahead and pressing three times will skip back to whatever you were listening to previously.
Meanwhile, if you're near your iPhone or your iPad, you can also switch between the different options as well as Off mode by accessing the noise control options via the volume slider. Simply by tapping, you can alternate between Active Noise Cancellation, Transparency mode, and Off mode. If you're out and about and you have your Apple Watch on you, there's also an option to access the two different modes by selecting the AirPlay button and choosing which one you want to access at that time. Just one thing to keep in mind: You'll need to make sure you your Apple device is running iOS 13.2 or later to access this feature, so I'd update if you haven't already.
Again, AirPods Pro earbuds are currently available to order on the Apple Store app and Apple's website for $249 with a ship out date of Wednesday, Oct. 30. You can also find them in stores as of Oct. 30, so I'd check them out if you haven't already and get acquainted with some of the cool new features that come with the gadgets.