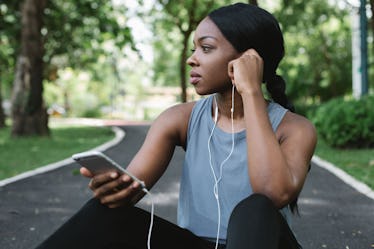 Here's How To Get Creative In Tracking Your Workout Progress, According To Experts
Progress is a subjective term, but the definition is especially up to interpretation in the context of fitness. Whether you've been following a regular fitness routine for years, months, or days, you probably started on your fitness journey with the intention to make a change — be it to gain muscle, get strong, or just to improve your health overall. So, how far have you come? Maybe you haven't given it much thought, or you just haven't found a method that works for you, but figuring out how to track your workout progress in a way that makes you feel comfortable and motivates you to stay committed to your goals is key to advancing in your practice.
I think it's safe to say that, the more time you spend working out different muscles and testing the limitations of your body, the more in-tune you become with yourself both physically and mentally. That sort of mind-body-soul connection is incredibly valuable, not to mention something you can trust, but there's also value in a tangible log or documentation of some sort that literally shows you how you're progressing if, that is, your intuition alone isn't enough. And, TBH, for some people, it's not.
Stan Dutton, a NASM-certified trainer and head coach for the personal training platform Ladder, says that, once in awhile, your inner critic can get in the way of noticing real progress, despite any physical evidence of said progress. "This often happens when we're in that gray area — where progress is slowly happening, but we haven't reached our goals yet," he tells Elite Daily over email. So, during these times in particular, Dutton adds, it's important to practice what he refers to as "measuring backwards" — looking at how far you've come in order to see that your hard work really is paying off.
"When my Ladder clients look back at their exercise history within the platform, they'll see, not only are they getting stronger in the sense of lifting heavier weights, but they'll also be able to track improvement in the number of push-ups they can do, or the amount of time they can hold a plank," Dutton explains, noting that even the "smallest" improvements in your workout routine can feel the most satisfying.
So how can you go about accurately tracking your workout progress on the daily? Here are some suggestions from the experts.