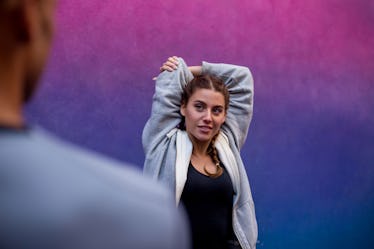 9 Conversation Starters To Use At The Gym When You've Got A Workout Crush
Walking into the gym can elicit feelings of confidence, energy, and power. Of course, you could also feel dread, lethargy, and longing for the comfort of your couch. Whether you're skipping happily or dragging your feet, you've gotta hit the gym every now and then. If you're less than enthused to get your sweat on, take heart, because kettlebells aren't the only thing you can pick up at the gym! While I might not be able to pump you up for your next workout, here are a few ideas for how to talk to someone at the gym to inspire you when you next run into your gym crush.
The first thing to be mindful of is that people are at the gym to work, either on their fitness or because they literally work there. So if someone has their headphones on, is grunting with each rep, or is mopping up the grunting dude's sweat, they might not be receptive to flirtation. Be respectful if they don't seem into the signals you're dropping. But if you're sharing equipment with a cutie or hopping on the spin bike next to them, go ahead and strike up a conversation. And if you're sweating with nerves, no problem! You're at the gym, so sweat away.