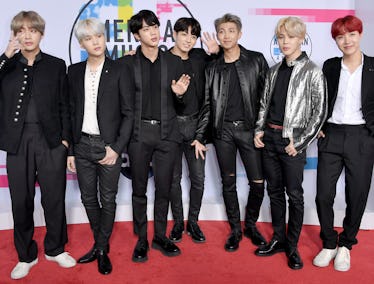 Here's How To Stream The 2018 MAMAs So You Don't Miss BTS' Epic Performances
Neilson Barnard/Getty Images Entertainment/Getty Images
The 2018 Mnet Asian Music Awards just kicked off their three-night event in Korea on Dec. 10. And while the MAMAs premiere featured all kinds of amazing K-Pop acts (mostly rookies), fans were hoping to catch a glimpse of their all-time favorite: BTS. But BTS fans will have to wait a couple days to see the guys sing their hearts out at the MAMAs. BTS is lined up to perform at MAMAs Fans' Choice in Japan on Wednesday, Dec. 12. And if that's not enough excitement for one week, then you'll be happy to hear that they're also scheduled to perform at the official 2018 MAMAs on Friday, Dec. 14, in Hong Kong. Their performances are bound to be amazing, so this is one event you won't want to miss. And to make sure you don't, down below is how to stream the 2018 MAMAs.
Even though BTS wasn't at the MAMAs premiere, they did walk away with a slew of awards. Basically, the entire BTS team went home with awards. Bang PD took home an award for Best Executive Producer of the Year, while Pdogg won for Best Producer of the Year, Sung Deuk won for Best Choreographer of the Year, and MU:E was awarded Best Art Director of the Year for "Fake Love." So, the MAMAs premiere was still an eventful night for BTS and ARMY despite their absence.
Now that the show is over, it's time for the band and their fans to prepare for the MAMAs in Japan and Hong Kong. For those of you planning to catch BTS' performance during the live show, you can livestream the show on the Mwave website by clicking here or by clicking play below. That makes everything super convenient, doesn't it?
Less convenient, though, is figuring out when to tune in. In other words, the massive time difference in Japan and Hong Kong means watching live will probably interfere with your sleeping schedule.
Since the 2018 MAMAs in Japan and Hong Kong will be airing when much of the United States is asleep, you'll have to wake up in the wee hours of the morning to catch the guys live on stage.
For MAMAs Fans' Choice on Dec. 12, for ARMY on the east coast, be sure to set your alarms for 3 a.m. because that's when the red carpet starts in Japan. If you're on the west coast, hop on to the livestream at 12 a.m. But if you want to catch more Zs by skipping the red carpet and going straight to the live awards show, then east coast fans should access the livestream at 5 a.m., while west coasters can catch all the awards show action at 2 a.m.
For the Official MAMAs on Dec. 14, it's a little different. If you're on the east coast, you should tune in at 5 a.m. for the red carpet and then the awards show starts at 2 a.m. On the west coast, the red carpet kicks off at 1 a.m., while the love awards show will begin at 4 a.m. Got all that? OK. Good!
I'm sure waking up that early will not deter ARMY from tuning in. Not at all! In fact, I would bet money that all you ARMY out there will be setting multiple alarms, chugging gallons of coffee, and doing just about everything to make sure you catch these once-in-a-lifetime performances. And if you're someone who's willing to do that, I admire your passion!
Whatever you decide to do, I'm sure the wait will be worth it! A performance from BTS always is and this time is no different. Can't wait to see what the guys cook up for their performances!