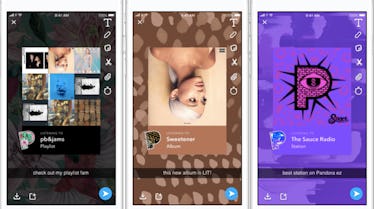 You Can Easily Share Your Favorite Music On Snapchat With This Awesome Feature
Pandora
The best kinds of friendships are the ones where you're always swapping music with each other. My friends and I started sharing our jams way, way back in the early '00s when we were still burning CDs and mixtapes. While music-sharing has slowly-but-surely progressed to digital-sharing in the last 10 years, Pandora's latest music-sharing feature seriously makes it easier than ever. So if you also enjoy swapping tunes with your pals, here's how to share a Pandora station on Snapchat. Not only is it super easy to use, but you'll probably want to use it all the time.
You were probably already aware of the fact that Snapchat and Pandora have been partners for a while now. However, on Aug. 22, Pandora launched a new (and super useful) feature to all iOS and Android users. According to Pandora's latest blog post, Pandora Premium listeners can now share any and all of their favorite jams, albums, playlists, and even Pandora stations via Snapchat. In the June 2018 rollout, Pandora Plus and ad-supported listeners could only share songs via Snapchat, per Pandora. Basically, you have more options to play with now (!!!).
Premium listers have access to music cards, which they can send to their friends to give them direct access to Pandora's entire music library. I'm super into it right now, so be prepared to see all of my favorite jams on my Story later. You're welcome.
The best part is that sharing your music to Snapchat is beyond easy, according to the Pandora blog post. When you're listening to a song via the Pandora app, simply click "Share" on the "Now Playing" screen, and select "Snapchat." Each song, album, or playlist has a one-of-a-kind card, and you'll be able to add the card to your Story, send it in a private Snap, or even send it out to a group of friends. If your friend views your Snap, they can swipe up to listen to the music on-demand through the app's Premium Access feature. It's that simple, y'all, and if that wasn't easy enough, users don't even have to connect their Snapchat to their Pandora app to be able to use this glorious feature. Yes, you heard that correctly, it's literally available to any and all Pandora Premium users to share music on-the-go.
My friends and I happen to have relatively similar taste, so I always love seeing what they're listening to, even when we're miles and miles apart. Not only am I constantly discovering new tunes this way, but it's a really great way to stay in touch. In the blog post, Laura Eng, Pandora's Product Manager, said that this was essentially the inspiration behind this glorious new feature, because music is meant to be shared with friends.
In the blog post, Eng said:
Music is meant to be enjoyed with others and now with Pandora Premium, listeners get the benefit of personalized, on-demand listening -- along with the ability to share their favorites through Snapchat.
Pandora Premium's latest feature not only makes music sharing easier than ever, but it gives users yet another opportunity to connect with their friends. I can't wait to hear what y'all are listening to, but until then, I'll be rocking out to my own tunes. Happy jamming, y'all.