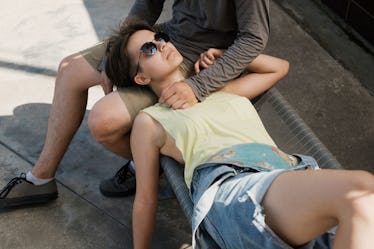 Here's How To Save A Boring Relationship, & It's Easier Than You Think
As they evolve, relationships typically tend to go through phases. It starts with the honeymoon phase, when everything you say and do feels new and exciting ⁠— almost like an emotional high. But too often, that intensity is not really sustainable, and eventually things tend to settle down a bit. While some people might find this calmer phase less thrilling and start working on how to save a boring relationship, I personally love the post-honeymoon-phase, because that's when you really start getting to know one another and start developing real intimacy.
It also might take a little more work to keep things from tipping over from cozy and safe, into stale and boring. But why does that happen? Why do some relationships get boring after awhile? Daniel Sher, a registered clinical psychologist and a consultant for the Between Us Clinic tells Elite Daily this happens when you stop making the effort to learn about one another. "This is typically replaced by a feeling of safety and predictability — fertile ground for boredom to grow in. Safety and predictability are important; but it's possible to experience this while also having a relationship that feels enlivening and exciting," he explains.
The question is: If becoming bored in a relationship is common, does it automatically mean the relationship is doomed? Megan Lambert, a relationship and intimacy coach, tells Elite Daily that's not necessarily the case, and there is still hope. "Boring relationships can be saved, if both people are willing to lean in, get uncomfortable, and work on stuck spots together," she says. So, if that sounds uncomfortably familiar, here's how the experts suggest putting the spice back in your romance.