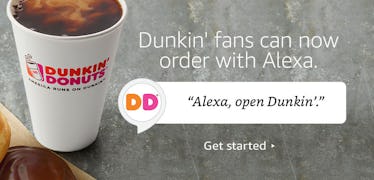 You Can Now Order Dunkin' Donuts Through Alexa For An Easy AF Dunkin' Run
Whether you lost sleep thanks to a Game Of Thrones marathon or one too many margaritas, properly functioning after a late night can be nearly impossible. Since schlepping yourself down the street to wait for your morning caffeine jolt can be pretty daunting when you're tired-as-heck, Dunkin' Donuts has made it so that coffee fans can now place their orders for pickup without lifting a finger or standing in line. So, if that sounds like your cup of tea (er, joe), here's how to order Dunkin' Donuts with Amazon Alexa. It's seriously a game-changer in the world of caffeine.
Ordering Dunkin' Donuts through Alexa will make you feel like literal royalty, so get ready for a life of luxury. According to a press release on Wednesday, Aug. 29, you'll start out by opening both a DD Perks account as well an Amazon account, if you don't already have both. Then, link the two of them via the Alexa app, and say, "Alexa, order from Dunkin' Donuts." Select which DD location you'd like to order from. If you've gone to one recently, Alexa will automatically identify it. You'll then place any order from your DD saved favorites, and you'll specify if you're picking up your order in-store or via drive-thru. Then, confirm your order details, such as time, location, and payment, and you'll be able to cut the line like a boss once you arrive. That sweet, sweet caffeine will be all yours, in a matter of minutes.
If time is truly of the essence, on the other hand, you can just say, "Alexa, tell Dunkin' Donuts to reorder my last saved favorite," and it'll just do everything for you based on previous orders, according to a press release. It'll use your payment information via your DD Perks Rewards account through the Dunkin' Mobile app. If you don't have sufficient funds (thanks to all the DD Runs), you can simply reload your Perks-enrolled DD Card to the DD app, and it'll use any points you might have. Yes, it's that easy, so coffee lovers and fellow lazy folk, rejoice.
If you aren't already a DD Perks Member, you're seriously missing out. After enrolling in the DD Perks Rewards Program on the DD Perks website, you'll receive a free beverage at participating DD restaurants, according to the press release. With your account, you'll be able to earn points toward free beverages with each purchase you make using the card, you'll get a free drink on your birthday, and you'll receive various other offers and deals. It's super worth it (and it's even free), so why not?
I hate to say it, but I'm always down to expend as little energy as possible, especially if I'm feeling low on caffeine. Getting coffee is going to be 10 times easier now that I can tell Alexa to order exactly what I want. All I have to do is make a decision and run to my nearest DD restaurant, all without having to wait in any long lines or open any apps. If you think about it, this is kind of a dream come true, and it's also a major time-saver on those days when I'm running super late (aka basically all the time!). So, cheers to that!