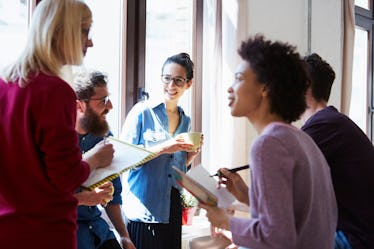 7 Women Reveal What They Did To Make Friends With Their Coworkers At A New Job
Real talk: Making friends as an adult in any environment can be a pretty intimidating experience. It's not like grade school where you can simply bond over sharing your Fruit Roll-Up and brownie bites during your lunch break, and boom, you're instantly besties. In your workplace, you may be tossing around the idea of how to make friends with your coworkers, especially if you're the new kid on the block.
Seven real women revealed to Elite Daily just how they became good friends with their colleagues, so don't stress; it'll happen. It really depends on your personality and how close you actually want to be with your coworkers. You most likely want to be cordial with them because you spend practically 40 hours a week in their presence. That's probably more than you see your parents and best friends.
Don't overthink the situation at hand and immediately assume that you have to go out of your way to befriend them. If there's anything worse than not having friends at work, it's being that person who tries to push people too hard to be friends right away. The first step to bonding with coworkers is realizing that outside of their button-up shirts, slacks, and workload, they're a person just like you. Peel back the professional layers a bit, and you could potentially befriend some of the most amazing people ever.
Let things happen naturally, and everything will fall into place. There are several ways to approach Friendship Lane with your coworkers, but take some crucial tips from ladies who have already been there, done that, and want to help you out.