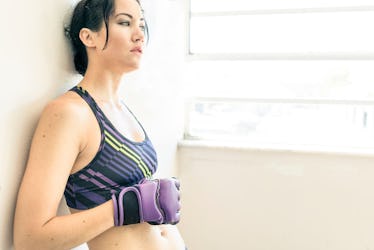 How To Know When Your Body Needs A Break From Working Out, Because It's Not Always Obvious
This might come as a shock to some of you, but too much of anything is never a good thing, even when it comes to exercising. This isn't to say that you shouldn't be moving your body every day (You should at least try to, TBH.), but there's a clear difference between taking a walk on your lunch break over sitting in the cafeteria, and hitting the gym seven days a week. In the same respect that committing to an exercise routine is admirable, so is knowing when your body needs a break from working out because, inevitably, eventually, it will — and it's important for you to not only be able to acknowledge the signs, but to honor them as well.
Trust me, I get it; when you're lifting heavy, running faster, and you start feeling physically and mentally stronger, it's borderline impossible not to crave that kind of euphoria. (Endorphins do make you happy, after all.) But think of it this way: If you eat your favorite cookie every day — sometimes multiple times a day — the taste would get old, the sugar rush might start to mess with your digestion, and, there's a chance you'll become highly dependent on that cookie to make you feel a certain way at the end of the day. Believe it or not, fitness can yield the same negative effects.
Remember, part of that "everything in moderation" mantra is knowing when to go without, because, truth be told, aiming for "no days off" is highly unnecessary. What is necessary is giving your body and mind the space it needs to rest up and recuperate, whether that be two days of recovery in between workouts, or an extended period of time clocked out of the gym to focus on your wellbeing.
Of course, if you're someone who has a lot of energy, and feels super motivated to smash out a workout every single day, knowing when to slow down can be a difficult thing to decipher. To pinpoint a few telltale signs that your body needs a break from working out, I reached out to experts for clarification. Here's what they have to say.