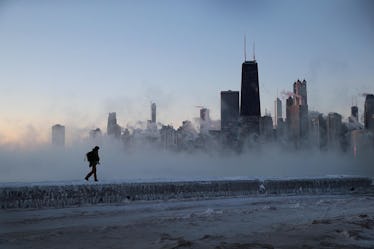 Here's How To Help The Homeless During The Polar Vortex, Because This Is Bad
Scott Olson/Getty Images News/Getty Images
One thing is for certain, this polar vortex is no joke y'all. Since Wednesday, Jan. 30, residents all across the United States have had to withstand freezing temperatures and even chillier winds. Even though this ordeal isn't set to last for much longer, it's impacted people all across the country, but especially the Midwest. So, for those enjoying sunnier temperatures (I'm looking at you Florida and California), you might be wondering: how can you help people affected by the polar vortex? Here's what to know.
Currently, residents all across the United States, but mainly the Midwest, are dealing with freezing temperatures, with wind chills hitting as low as -65 degrees in parts of Minnesota, according to USA Today. Even though some Midwesterners have been trying to make the most out of a truly chilling situation, such as filming themselves throwing boiling hot water into the air to make snow, this cold weather is becoming extremely dangerous. In fact, on Wednesday, Jan. 30, Iowan news channel Fox 28 reported that several people have died, including a University of Iowa college student who was reportedly found unresponsive outside a college building. And while for many of us the cold weather is just an uncomfortable inconvenience, the situation can be deadly for homeless individuals, who may not have warm shelters to hide from the cold. The Chicago Coalition for the Homeless estimates that there are some 80,000 homeless people in the area, per The New York Times.
We can't stop the weather from doing its thing, but we can do our part to help those impacted by this massive cold front. So, here's what to know and what to do.