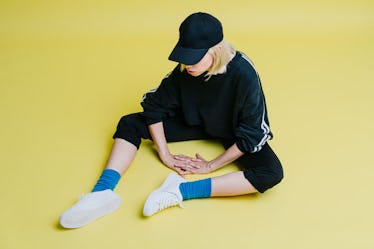 Here's How To Handle Anger If It Gets The Best Of You Sometimes, According To Experts
Anger is certainly not the most comfortable emotion to have, especially since it can come out in some not-so-cute ways. If you get angry and say mean things to people, or yell, or slam doors, or you call your BFF a jerk, well, everyone's been there. Learning how to have self-control with anger is a process that can take awhile, but it doesn't have to be one that makes you feel worse about the anger during that process.
Believe it or not, there are some really constructive benefits to getting in touch with your anger, even beyond just learning how to not have regular flip-out moments on people in public. As counselor and relationship expert David Bennett tells Elite Daily, "I believe that all emotions are good in the sense that they tell us that some need isn't being met. If you're angry, then some need of yours isn't being met."
That could be the need to be heard, Bennett explains, to be respected, or it could even mean that you're in some kind of situation that you simply don't want to be in anymore. "This isn't to say anger is a positive emotion, but it's certainly OK to feel it," he says.
And when you learn how to deal with it, and have a little more control over how it might make you act, you can also start to figure out what might be bothering you underneath it all. Here are a few ways to fee more in control of your anger the next time those emotions hit you.