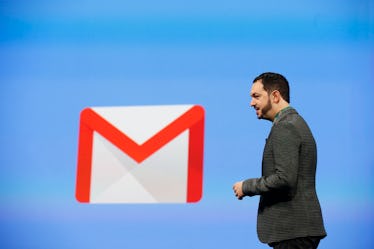 Here's How To Switch Back To The Original Gmail Design If You're Over The New Format
Stephen Lam/Getty Images News/Getty Images
I'll be completely honest: I absolutely cannot stand change of any kind. Whether it's something as basic as a haircut, or if it's a little more drastic, like a family member moving away, change always manages to get to me — in the worst way possible. In terms of recent changes, Gmail decided to shock users nationwide when the company changed its format earlier in summer 2018. So, as you would probably imagine, it's been driving me totally and utterly bonkers. If you are also missing the old version of the website, here's how to go back to the old Gmail format. I am personally so relieved that it's possible.
You may have felt totally defeated or backstabbed when Gmail went behind your back and changed the format first for early adopters in April, and had a full rollout of the update in July 2018. Luckily, though, reverting it back is simple. First, according to The New York Times, you'll have to navigate to Settings, which you can find in the upper-right side of your Gmail homepage screen. Click on it, and select "Go back to classic Gmail." Then, the old version should come up immediately. You may be asked why you decided to change back. Personally, I think it's OK if the only reason is that you just can't deal with change, because #same.
Make sure you take full advantage of being able to use the old version, though. According to Softonic, you reportedly won't be able to revert to it for long. By October 2018, using Gmail's old version won't be an option anymore, and everyone will automatically be forced to use the updated version. Users on the new version won't be able to opt out anymore, and users still using the old version will be forced to use the new format. Per the official update on the G Suite Blog in June 2018, the "opt-out option" will be removed "approximately 12 weeks after the GA announcement in July." So, you may want to use this sweet, sweet time to continue using the old Gmail. Hopefully, when you transition to the new one, it wont take you too long to get accustomed to it.
While the transition has been practically unbearable, there are a number of benefits from using Gmail's new format. If you're often late responding to emails, the new version will now remind you to follow up, and it includes a Smart Reply feature that crafts potential responses. It also provides a more "streamlined look," the ability to better organize attachments as well as Offline Mode and a Snooze Button — so you can get some time away from your email.
In terms of safety and security, the new version also provides Confidential Mode and Design Refresh. These features are basically used for private information that you must send electronically. Confidential Mode makes emails expire and retractable, while Design Refresh warns you not to click something, in the event that it might be a scam. When push comes to shove, the new design is actually pretty cool.
Don't get me wrong — the new Gmail format is honestly rad. It has a lot of really useful benefits and extremely hi-tech features. I, however, was all about the old version, and, in general, I really just can't handle change. Come October, though, both you and I won't be able to use the old version ever again, so please think of me during this time of hardship. I'll be fine.