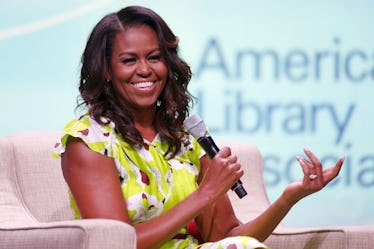 Michelle Obama Might Be Coming To Your City, So Here's How To See Her
Jonathan Bachman/Getty Images News/Getty Images
Gather round everyone, because have I got some great news for y'all. If you're like me, then from time to time you'll wistfully glance out of the window and reminisce about simpler times, when the Obama family was in the White House. Sadly, those days are gone, but it turns out that Michelle Obama might be coming to your city as part of her upcoming book tour. Here's how to get tickets to Michelle Obama's book tour, because this first lady still has things to say.
Yes, that's right. First Lady Michelle Obama will be hitting the road this year in celebration of her upcoming book, Becoming Michelle Obama, which is set to be released Nov. 13. The book is an authentic and raw memoir that chronicles her time growing up on Chicago's South Side and her journey into the White House. The tour, "An Intimate Conversation With Michelle Obama," will travel to various cities across the United States including Brooklyn, New York; Denver, Colorado; Washington D.C.; Los Angeles, California; Detroit, Michigan, and other cities. According to her website (where you can check out the full list of tour stops), the tour will kick off Tuesday, Nov. 13 in Obama's hometown, Chicago, Illinois and will end Monday, Dec. 17 in Dallas, Texas. So, for those lucky enough to catch a glimpse of the former FLOTUS during her tour, tickets go on sale Friday, September 21 at 10 a.m. local time.
In a press release about the book tour shared with Elite Daily, Obama shares that she hopes the tour will "inspire others to share their own stories" no matter what they are. She said,
I've spent the last year and a half reflecting on my story as deeply and honestly as I could, and now I'm thrilled to travel the country and do the same with readers this fall. I hope that this tour will inspire others to reflect upon and share their own stories — all the joys and sorrows, all the scars and renewals — so that together, we can better recognize that each of us, in our own way, is in a constant process of becoming.
Do you hear that? That's me frantically scribbling these tour dates into my weekly planner.
There's no denying that Obama is not only poised, but an impressive public speaker as well. Since leaving the White House, Obama hasn't been a stranger to public speaking events or taking the stage to address important issues. In May, she attended the United State of Women summit in Los Angeles, and the topic of gender inequality in the workforce came into discussion. While speaking with Black-ish actress Tracee Ellis Ross, Obama noted how men can "fail up" in their careers, while women don't have that option.
"I wish that girls could fail as bad as men do, and be OK," Obama said, "because let me tell you, watching men fail up — it is frustrating. It's frustrating to see a lot of men blow it and win. And we hold ourselves to these crazy, crazy standards."
Word. If Obama's book tour touches on incredibly real discussions like this, I'm not sure if I'll be able to sit still and not give her numerous standing ovations.
So there you have it, everyone. 2018 might be more wild by the minute, but let's look at Obama's book tour as a time of escape and relief, even if it's just one night. Make sure you grab those tickets, and I'll see you all there.