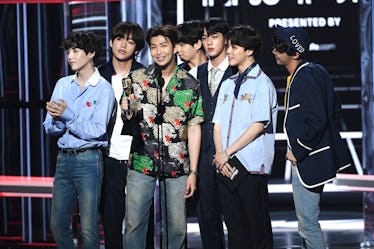 Here's How To Get Tickets To 'Burn The Stage' So You Can Get Up Close & Personal With BTS
Kevin Winter/Getty Images Entertainment/Getty Images
BTS is coming to the big screen on Nov. 15, and that means you need to snag your tickets while they last. With the BTS ARMY ready to swarm box offices the day Burn the Stage: The Movie opens, lots of fans are looking for a way to get tickets without waiting on long lines. So, here's how to get tickets to Burn the Stage without any hassle.
As I'm sure you know by now, Burn the Stage: The Movie will give you an unprecedented look into what goes on when BTS is on tour. Burn the Stage will show how BTS handled the pressure of their Live Trilogy Episode III: The Wings tour and all the fun that came with it. The film will also feature never-before-seen interviews with each member of BTS. It's basically an all-access look into what it's like to be on the road with the guys of the band. And that means you definitely don't want miss a moment of this film.
Now, onto the business of getting tickets. It's actually pretty simple. The only hitch will be beating out all the other BTS fans out there to get yourself a ticket. But even that won't be as hard as it seems.
So, how do you get tickets to Burn the Stage? First, you should head over to the official Burn the Stage website at burnthestagethemovie.com. From there, you can click on where it says "Get Tickets" in the top navigation menu and you'll be taken to a page where you can search for theaters near you. In addition to providing you with a search bar, the website also lets you view a map where theaters in your area are already highlighted for you.
Once you've decided on a theater, click on the "Get Tickets" button next to where your theater is listed. You'll then be directed to your theater's official site to purchase your tickets. In some cases, you might find that a theater isn't offering tickets to purchase just yet. That's likely because the film's release date is still a few weeks out, but you should be able to purchase tickets eventually, so don't worry!
And in case you're wondering where in the world you can see Burn the Stage, an official BTS press release listed the following countries as places where the film will screen in theaters: Albania, Argentina, Australia, Austria, Belgium, Brazil, Brunei, Canada, Chile, Colombia, Costa Rica, Croatia, Denmark, Dubai, Ecuador, El Salvador, Finland, France, Germany, Greece, Guatemala, Honduras, Hong Kong, India, Indonesia, Ireland, Iraq, Lithuania, Luxembourg, Macedonia, Malaysia, Mexico, The Netherlands, New Zealand, Nicaragua, Norway, Panama, Peru, Philippines, Portugal, Puerto Rico, Serbia, Singapore, Spain, Sweden, Switzerland, Thailand, the United Kingdom, the United States, Uruguay, and Vietnam. More countries will be added to this list sometime in the future.
Needless to say, Burn the Stage will be playing just about everywhere, so you'll have every opportunity to see it no matter where in the world you are. But just make sure you get those tickets in time for Nov. 15! Burn the Stage is going to be an incredible event!