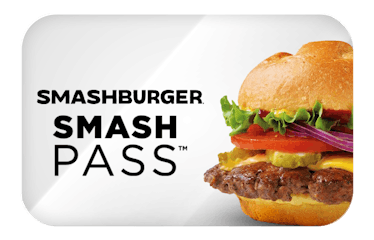 This Smashburger Deal Will Enter You For A Free Trip To Las Vegas & Get You A Burger A Day
Working in an office can be emotionally taxing for several reasons, but I think the absolute worst part is having to plan out your lunches. Either you wake up early and make yourself a sad salad, or you end up buying lunch, which — let me tell you — adds up money-wise. Anyway, Colorado-based burger chain Smashburger is now giving fans the opportunity to eat 100 burgers for 100 days for $100, so if that sounds better than any old homemade salad, here's how to get Smashburger's Smash Pass for free lunch as well as a possible trip to Las Vegas.
Last year, Smashburger offered a Smash Pass that gave dedicated burger fans 100 days of $1 entrées at Smashburger. While that deal was inarguably a steal, this year's Smash Pass is looking better than it's ever looked before. According to the press release, this year's Smash Pass offers 100 days of free entrées for $100. Yes, you heard that correctly — you can get literally anything off their entrées menu, which includes anything from Smashburger's iconic Triple Double, to the grilled chicken sandwich, and even fresh (not sad) salads. I don't know about you, but in my opinion, this is a freakin' blessing from above.
The Smash Pass will be available for a super limited time on the Smashburger website on Sept. 28, 2018, and it will be valid between Nov. 5, 2018 and Feb. 14, 2019 at all participating locations, according to the press release. To get one for yourself, just sign up online for the SmashClub rewards program, and buy the Smash Pass for $100. Then, for every day it's valid, you'll receive a free entrée coupon in your SmashClub account. Unfortunately, you won't be able to hoard your coupons and save one burger for a rainy day, because each coupon will only be valid day-of. But, a burger a day really isn't too shabby, if you think about it.
Aside from free lunches galore, the Smash Pass also offers an exciting opportunity for you and a guest to win a free trip to Sin City, according to the press release. Yep, that's right — additionally, each time you buy a Coca-Cola fountain drink with your Smash Pass, you'll be automatically entered to win an all-expenses-paid trip for you and your fave travel buddy to go to Las Vegas. So cool, right?
In the press release, David Martinelli, the vice president of marketing at Smashburger, said the company decided to bring back the Smash Pass this year since the burger chain noticed that fans were enjoying it tremendously last year. Not only will it be a delicious way to kick off the holidays, but Martinelli hopes it'll alleviate a little financial stress come Christmastime.
In the press release, Martinelli said:
Our fans raved about the original Smash Pass and have been begging for it to make a comeback. We wanted to elevate the experience for our most loyal fans and really give them a lot of burger for their buck. Getting more than $600 worth of burgers for just $100 really takes the sting out of the expensive holiday season.
If burgers aren't quite your thang, Olive Garden recently brought back its famous Never-Ending Pasta Pass this year. Starting on Sept. 24, passholders nationwide can enjoy eight weeks of access to unlimited servings of pasta bowls, soups, salads, and breadsticks, for only $100. As a lifelong carb-lover, I have to say that it's a pretty sweet deal.
I hate having to stress about making or buying lunch, so Smashburger's Smash Pass is basically a dream come true, in my eyes. Aside from the fact that it guarantees a free burger every day, it also offers a variety of choices, and even the chance to win a free trip to Vegas. This deal is so phenomenal, that one might say that this deal is... smashing.