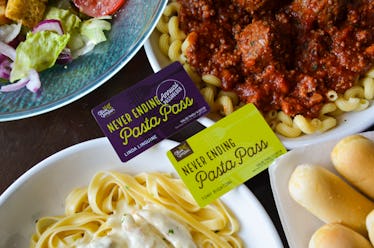 Olive Garden's Never Ending Pasta Pass Is Back, So Bring On The Linguine
Olive Garden
In this cruel, cruel world, there are very few things that make me happier than curling up in my bed with a warm bowl of pasta. Whether it's drenched in tomato sauce, if it's delicately sprinkled in cheese, or if it's submerged in a dressing of garlic and olive oil, pasta is undoubtedly the most delicious (and, by far, the most comforting) meal imaginable. So, since carbs are life, here's how to get Olive Garden's Never Ending Pasta Pass. Buon Appetito!
On Tuesday, Aug. 21, Olive Garden announced in a press release that they would be making the dreams of 23,000 pasta lovers come true, with the sale of the highly-regarded Never Ending Pasta Pass. For eight weeks straight, pass holders will have access to unlimited servings of pasta bowls, making way for over 100 combinations of pastas, sauces, and toppings. Pass holders will also have access to unlimited soups, salads, and breadsticks, and it all only costs $100. You'll be able to buy it on the Pasta Pass website for only 30 minutes, starting on Thursday, Aug. 23, at 2 p.m. ET, and those interested must be 18 years or older. Good luck, my friends. May the carbs be with you.
Also, at the same time, Pasta Pass will be unleashing 1,000 Annual Pasta Passes, according to the press release, and they sound like everything I could ever want. These will cost $300 each, and will give annual pass holders 52 entire weeks of unlimited Never Ending Pasta access. Yes, you heard that correctly, and honestly, it sounds so worth it. I'd do a lot for unlimited amounts of pasta, and this requires no effort, other than a one-time purchase. Count me in.
Jennifer Arguello, the Executive Vice President of Marketing for Olive Garden, said in the press release that Never Ending Pasta is extremely popular, so in addition to making it available for eight weeks, they'll have an option to make it last a year. TBH, I wouldn't want it any other way, and I absolutely cannot wait to knock back Olive Garden's noods all day, everyday.
In the press release, Arguello said:
We have the most passionate fans who look forward to Pasta Pass and Never Ending Pasta Bowl throughout the year, and they've made it clear that eight weeks just isn't long enough. So we listened, and we're excited to give our guests more of what they've been asking for– an Annual Pasta Pass that extends our Never Ending Pasta Bowl promotion year-round.
Aside from chocolate, puppies, and maybe even guacamole, there's absolutely nothing I love more than all-you-can-eat pasta. Now that Never Ending Pasta Passes are finally going on sale this week, my happiness is basically never-ending as well. Whether you want a pass to last you for eight weeks, or even for a year, you can eat as much pasta as you want, any way you want, and it's basically a gift from the heavens above. Get excited, because this truly is the opportunity of a lifetime.