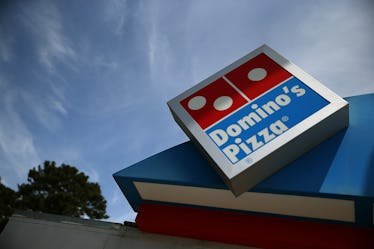 Domino's Half-Priced Pizza Deal Sounds So Good & Here's How To Get It
Justin Sullivan/Getty Images News/Getty Images
When it comes to food delivery, my first choice is always pizza. You can't go wrong with a hot and cheesy pie delivered right to your door. For one week this summer, Domino's is making it so easy to order your favorite pizza with an awesome limited-time deal. Here's how to get half-priced Domino's pizza in July for a delicious deal this summer.
Beginning on Monday, July 9, Dominos is offering half-priced pizzas for one week only. Yes, you read that right: From July 9 through July 15, you can get "50 percent off of all menu-priced pizzas when you order online," per the Domino's press release. Go ahead and cancel all of your dinner plans, because pizza is what is on the menu for the week.
Jenny Fouracre, Domino's spokeswoman, shared in the release that there are plenty of ways to enjoy this limited-time online deal. She said:
There's no better way to celebrate summer than by enjoying a warm, delicious pizza at the beach, by the pool, at a picnic or wherever your favorite summer spot may be! What makes it even more satisfying is that pizzas are half off, this week only.
OK, I'm not usually one who thinks of eating pizza for lunch while I'm at the beach, but a half-priced Domino's pizza sounds like it will go with just about any summer activity.
The weeklong deal is only available online, but there are plenty of ways to get your order in for a half-priced pizza on the web. You can visit the Domino's website, or you can place your order through the Domino's ordering app with your iPhone, iPad, or Android device. Again, this deal is only valid on menu-priced pizzas from July 9 through July 15, but with all of the ways you can order online, I'm sure you'll be able to take full advantage of it.
You can even order your half-priced pizza to a Domino's Hotspot, per an April 2018 press release from Domino's. In the spring, Domino's announced the arrival of more than 150,000 Domino's Delivery Hotspots, which are locations without a "traditional address." That means you can order your pizza to "places like local parks, sports fields, and beaches" without having an exact address.
When you use a Domino's Hotspot, you order online from a mobile device, and you prepay for your order with a credit card after choosing your closest Domino's Hotspot. Finally, you'll get directions to your chosen hotspot, so you can pick up your pizza. So, if you find yourself craving a slice of pepperoni after your weekly beach volleyball game, you can look up a hotspot and enjoy.
Online pizza deals and expanded delivery options aren't the only exciting things happening at Domino's. The pizza chain also recently announced its "Paving for Pizza" initiative. On Monday, June 11, Domino's launched a program that is meant to help keep the roads smooth, so that your delicious Domino's pizza arrives in one piece when it makes it to your house. The pizza company has already paved roads in Bartonville, Texas; Milford, Delaware; Athens, Georgia; and Burbank, California. You can nominate your own hometown for road repairs on the Domino's website.
It really sounds like the stage is set for you take advantage of the half-priced online pizza deal happening from July 9 through July 15. With plenty of ways to utilize mobile ordering, thousands of Domino's Hotspots to choose from, and smooth roads ahead, there is nothing standing in your way from getting your 50 percent off Domino's pizza order.
Well, I guess the one thing that could keep you from half-priced pizza goodness would be procrastination. So, order your favorite Domino's pie, and enjoy this deal ASAP.