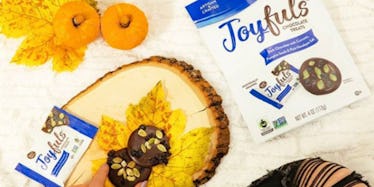 You Can Get Free Joyfuls Chocolate For A Sweet Treat On National Chocolate Day
Courtesy of Joyfuls
While I'm all hyped up about Halloween (the official countdown to Oct. 31 is on), there is another celebratory occasion that takes place just days before — and it's deserving of just as much attention. I'm talking about National Chocolate Day. It's a tribute to all things chocolate, and what better way to celebrate the sweet day than with free chocolate? Joyfuls, a chocolate company inspired by artisanal European sweets, is giving away complimentary chocolates on Sunday, Oct. 28 on Instagram. Want to get a bag for yourself? Here's how to get free Joyfuls Chocolate on National Chocolate Day for a sweet treat.
On Sunday, Oct. 28, make sure to clear your calendar so you can properly celebrate National Chocolate Day. Joyfuls Chocolate Treats is making it easier than ever to get a free bite of chocolate to commemorate the very delicious day. On Oct, 28, the confectionary company will be hosting a giveaway on its Instagram account @joyfulstreats. The winner will receive six complimentary bags of Joyfuls Chocolate Treats (two of each flavor) and a branded t-shirt. Pretty legit, right? It's so simple to play. Here's how.
Follow @joyfulstreats on Instagram.
Like their post about the content, which will go up on Sunday, Oct. 28.
Tag three friends in the comments section of the post, using the hashtag #chocolatelovers.
Once you've completed this super easy steps, you'll be entered for a chance to win free chocolate. You might as well give it a shot, because there is literally nothing to lose by playing. You and your friends can enter the giveaway until midnight ET on Tuesday, Oct. 30. The best part? You can enter multiple times, according to Joyfuls Chocolate Treats. So if you have more than three friends who are #chocolatelovers, start a new entry and tag away. Just make sure they enter, too, to increase your chances of winning free sweets. The contest is only open to residents in the continental United States.
Joyfuls Chocolate Treats come in three flavors including Dark Chocolate with Coconut, Almonds, and Pink Himalayan Salt; Dark Chocolate with Cranberries, Almonds, and Pink Himalayan Salt; as well as Dark Chocolate with Currants, Pumpkin Seeds, and Pink Himalayan Salt. As you might have already gathered, Joyfuls Chocolate Treats are the perfect combination of salty and sweet. The treats come in individually wrapped packaging and are made with 60% cacao. Additionally, each piece of chocolate is Fair Trade certified and is made from non-GMO ingredients, so you can feel good about this snack.
If you don't strike it lucky during Joyful Chocolate Treats' National Chocolate Day contest, not to worry. You can buy a bag of the sweetness at grocery retailers like Kings and Wegmans, according to the company.
National Chocolate Day might as well be a federal holiday as far as I'm concerned. Chocolate is one of those universal things that is enjoyed by people all over the world and can almost instantly turn a bad day into a good day, or at least for me it can. So when it comes to the idea of free chocolate, I'm here for it. BRB while I set my reminder to enter this sweet contest on Oct. 28.