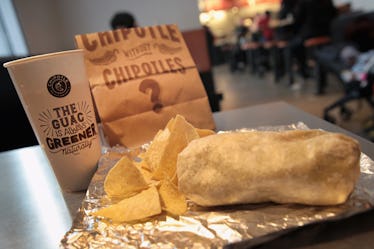 Chipotle's BOGO Deal For Students Makes It Easy To Get A Free Burrito, So Eat Up
Scott Olson/Getty Images News/Getty Images
When I was a student — way, way, back in the day — I pretty much did anything for free food. I'd go to club meetings I wasn't actually interested in joining, attend spirit events that really didn't tickle my fancy, and even participate in a highly competitive volleyball game. It was always the mere promise of free food that kept me going. If you're similarly inclined to partake in free grub, then read on to find out how to get free Chipotle burritos on Aug. 18. Don't worry about studying up for this deal, because it's so easy to take advantage of it.
Chipotle is generously offering this tasty BOGO deal to all current students on Saturday, Aug 18. Once you've dragged yourself through the unbearably steamy August heat to your nearest Chipotle restaurant, you've pretty much conquered half the battle. See? I told you, this BOGO Chipotle deal is going to be even easier than syllabus week.
When you get yourself to the cash register, simply request the "BOGO deal," according to a press release. After making it known that you're there for free food, you can snag your free burrito, salad, burrito bowl, kids meal, or tacos with the purchase of an entree of equal or greater value.
You can also get the BOGO goodness when you order online on Saturday, Aug. 18. If you go the online route, it's even easier to get your free Chipotle. All you'll have to do is simply enter the code STUDENT to redeem your BOGO deal, when you place an order for two or more qualifying menu items. Yes, it's literally that easy, and it's so, so worth it.
In a press release, Chris Brandt, the chief marketing officer at Chipotle, said that going back to school is a super exciting time, and the Tex Mex chain want to help out students by providing them with free Chipotle. I don't know about you, but this opportunity is kind of making me regret ever graduating.
In the release, Brandt said,
Back-to-school season is an exciting time for students of all ages. No matter the time of year, we're committed to providing students – and all of our customers – real ingredients, real cooking and real flavor, and we hope this BOGO will only add to students' back-to-school enthusiasm.
Usually, the start of the school year means that you're scrounging for any food that isn't microwaved ramen, and you're spending too many of your hard-earned dollars on expensive AF textbooks. Thankfully, Chipotle is here to add "BOGO burritos" to your back-to-school list.
I don't know about you, but one of my main goals in life has always been to get as much free stuff as possible — especially when it comes to food. Whether you're snagging BOGO tacos, salads, or even burrito bowls, you're definitely going to be eatin' good to start out the school year (if you're a student, that is), so get your extra Chipotle stomach ready for Saturday, Aug 18. With two free meals, you won't even have to worry about adding that $1.80 extra for guac.